Tulsa native, Malinda Blank, will be featured in August in an exhibit of works in a show titled, PULL. The show will be the monthly showcase and exhibit of local artists for Oklahomans for Equality (OkEq) at the Dennis R. Neill Equality Center.
The event begins with a reception on Thursday, August 2 from 6-9pm and will be on display throughout the month.
Currently working at FireThief Productions, Blank also teaches art to high school students at Oklahoma School of Science and Mathematics in Oklahoma City. She is an active member of the Camp Fire USA Executive Board and the Emerging Leaders Society Philanthropy Forum.
When not working on her art practice she enjoys spending time with her cats and discussing the cultural ramifications of relational aesthetics.
Blank received her BA in Photography from the University of Southern California in Los Angeles, CA. In 2016 she received her Masters of Fine Arts from California State University, Chico. Her work has been exhibited at Contact Space in Los Angeles, CA and was awarded the Juror Prize at Giving Pause, the 60th Annual Juried Exhibition at University Gallery in Chico, CA.
"This body of work is based on hooked rug patterns that were created and used by my great-grandmother, Fannie Blank, who was Old Order Amish," said Blank. "Like all people, the Amish have a desire to communicate their inner feelings and beliefs by creating objects. The mediums used are limited by the rules of the church to traditional forms typically considered craft. These include quilting, tatting, sewing and hooking rugs.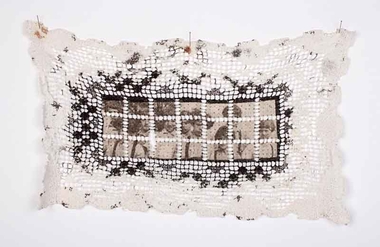 "As an artist, I am interested in merging these accepted forms of creativity with those that are not allowed by the Amish church including photography. As a descendant of this culture with which I have a strong personal connection, I continuously attempt to explore my heritage and how it has shaped who I am."
 The artist said many years ago her father went on a hunt to find Fannie's original patterns that matched the hooked rugs he inherited.
"He found himself on backcountry roads in Lancaster, Penn. searching attics and barns. Each person and place led him to another until finally, three years later, he found rolls of butcher paper shoved into a cardboard box laying in a barn loft.
"We know these are my great-grandmother's patterns not only because the original designs match those on her rugs, but also attached to the patterns are notes in her handwriting describing specific rugs she created as gifts for our family members."
Blank now uses these patterns to create her unique pieces.
"While Fannie transferred the image onto burlap then hooked scraps of fabric through to create a rug, I am transferring the image onto fabric to cross-stitch or using her paper pattern as a negative to create Cyanotype prints.
"Our work symbolizes an intergenerational connection that cannot exist in any other form. Scraps of paper have managed to close the gap of time to create something brand new. These pieces tell the story of a relationship that never existed. This unintended collaboration with a woman I was never able to meet has created a connection with her, my past, and the identity I cherish."
The show begins with a reception on Thursday, August 2, from 6-9 p.m. at the Dennis R. Neill Equality Center, located at 621 E. 4th Street in Downtown Tulsa. There will be a door prize drawn from the artist's work. The show continues throughout August.
Oklahomans for Equality (OkEq) seeks equal rights for lesbian, gay, bisexual and transgender (LGBT+) individuals and families through advocacy, education, programs, alliances and the operation of the Dennis R. Neill Equality Center. www.okeq.org.
Copyright The Gayly – August 1, 2018 @ 2:20 p.m. CDT.