Offensive anti-transgender speaker appearance at U of Delaware widely condemned
by Rob Howard
Associate Editor
Milo Yiannopoulos is 32, openly gay, and an editor for the right-wing website Breitbart. He is also a "professional troll," according to Sarah McBride, who became the first transgender person to speak at the Democratic National Convention.
Yiannopoulos is currently on a national tour called "Dangerous Faggot Tour" that features 20 stops at colleges, according to The News Journal of Wilmington's website,DelawareOnline.com. The website was covering an appearance by Yiannopoulos at the University of Delaware on Monday.
According to DelawareOnline's report, "University of Delaware administrators and college Republicans are under fire from students, alumni and state GOP leaders for hosting an anti-transgender speaker this week.
"Before conservative journalist Milo Yiannopoulos appeared Monday night, promotional posters popped up on campus with messages like 'Trans = Mentally Ill' and 'Trannies Are Gay' above images of First Lady Michelle Obama and reality TV star Caitlyn Jenner, formerly Bruce Jenner.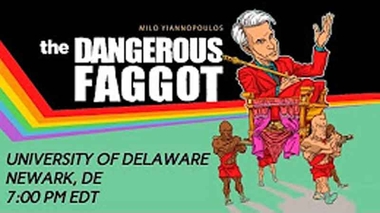 "The roughly 20 signs, taped to buildings, railings and parking meters, provoked condemnation from LGBT advocates before being removed by University Police."
"It's still unclear who was responsible for papering the campus. UD College Republicans distanced themselves from the incident in a Facebook post Tuesday: 'The posters were hung by Milo's staff without our knowledge or consent,' it read.
"'As a club, we do not endorse the statements that were on the posters, and they do not reflect the beliefs of our club. We truly apologize to all who were hurt by the content of the posters.'"
According to the Associated Press, Yiannoupolos"gave a 90-minute talk Monday night criticizing transgender people as 'mentally ill,' ''retarded,' and 'very damaged.' The sold-out event was attended by hundreds."
McBride, said DelawareOnline,  "called Yiannopoulos a 'professional troll' and denounced UD and College Republicans for hosting 'an individual whose entire persona rests on insulting and mocking people with disabilities, women, fat people, trans people, gay people and people of color.'
"'Sometimes, people think the best way to celebrate free speech is to go as extreme as possible, regardless of who it hurts,' said McBride, national press secretary for the Human Rights Campaign."
The AP reported, "Former Delaware GOP Executive Director John Fluharty, who is gay, is among those who have chastised the student group, saying in an email they are 'in bed with merchants of hate.'"
According to DelawareOnline, Fluharty's comments were even more blunt: "In a harshly-worded email to Andrew Lipman, a UD senior and state chairman of Delaware Federation of College Republicans, Fluharty accused the student group of being 'duped.'
"'Us other Republicans — the gay ones, like me, the transgender ones, the African-American ones, the Republicans who are told every day by people like Yiannopolous that there is something wrong with them — will soldier on building a more welcoming and tolerant party,' Fluharty wrote.
"'If the College Republicans think it better to bury their heads in the sand and get in bed with merchants of hate, we are happy to build it without them,' he continued."
The website reported, "Multiple student organizations petitioned UD to cancel his appearance, one of more than 20 college stops on his 'Dangerous Faggot Tour.' Both New York University and the University of Maryland previously canceled Yiannopoulos events citing 'security concerns.'
"UD student fees paid for the nearly $1,400 in expenses associated with holding Yiannopoulos' sold-out talk. Hundreds of people attended.
"Because the College Republicans is a registered student organization, the university couldn't deny them the same privileges afforded to other student groups, university spokesman Andrea Boyle Tippett wrote in an email.
"'The views and opinions expressed by any speakers on campus do not necessarily reflect the views of the university, its administration or faculty,' she wrote."
We can only hope.
Copyright 2016 The Gayly – October 28, 2016 @ 2 p.m.