OKC's Lyric Theatre presents In The Heights
Lyric Theatre of Oklahoma will close out its 2017 summer season this month with the groundbreaking, vibrant musical In The Heights, the Tony-Award winning production from the creator of the breakout hit Hamilton.
Guest directed and choreographed by Michael Balderrama, this spirited musical features a contemporary Latin-flavored score. Experience the close-knit neighborhood of Washington Heights, where the windows are always open and the breeze carries the rhythm of three generations of music. This "Upper West Side Story" dazzles with sizzling song and dance – hip-hop, salsa and merengue - as the hopes, romances and dreams of a community ignite.
The toe-tapping, hip-hop dance spectacle is a collaboration with the ZACH Theatre of Austin, where it just recently completed a successful six-week run. Earlier this year, Lyric partnered with the Texas theatre to present Million Dollar Quartet in both cities.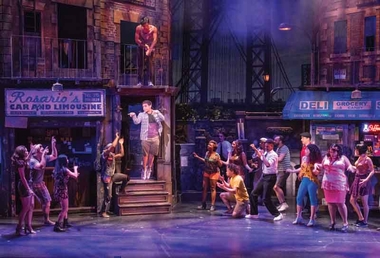 "We have long admired the work of our colleagues at Lyric Theatre of Oklahoma and share with them a common aesthetic in our work," said Dave Steakley, ZACH's producing artistic director. "Our collaboration is a natural extension of our friendship and allows our resources to go further for both theatres, enabling us to secure the very best talent for these two blockbuster summer musicals that will be audience favorites."
In The Heights,written by Lin-Manuel Miranda and Quiara Alegria Hudes, stars Keith Contreras-McDonald as Usnavi de la Vega, Theresa Medina as Abuela Claudia, Celeste Castillo as Carla, Gina Maria Hinojosa as Daniela and Alicia Taylor Tomasko as Vanessa.
It also features Fernando Acevedo (Kevin Rosario), Nicole Paloma Sarro (Camila Rosario), Cristina Oeschger (Nina Rosario), Vincent J. Hooper (Benny), Nicolas Garza (Sonny), Deiondre Teagle (Graffiti Pete) and Paul Sanchez (Piragua Guy).
The ensemble includes Domanick Hubbard, Danny Burgos, Jorrel Javier, Derrick Medrano, Greer Gisy, Alaina Vi Maderal, Jorge Guerra, Dainique Jones, Lianne Valerio and Gabriella Enriquez.
Balderrama is no stranger to the production, having been involved with the show from its inception at the workshop production, Off-Broadway, Broadway and then directing the first and second national tours of the musical. The Texas native was also in the original Broadway cast; he is currently serving as resident choreographer for the Chicago production of Hamilton.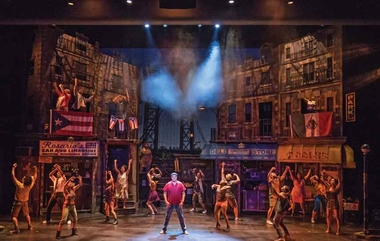 "In The Heights has changed the face of the American musical," said Michael Baron, Lyric's producing artistic director. "This powerful story of a loving Latino family takes place today in the same neighborhood as West Side Story. It is tuneful, personal and shows us that the American dream is for everyone and that we must celebrate our diversity to become a kinder nation."
In The Heights opens Tuesday, August 8, with performances through Saturday, August 12, at the Civic Center, 201 N Walker Ave., Oklahoma City. Lyric at the Civic single tickets start at $40. For additional information call (405) 524-9312 or visit www.LyricTheatreOKC.com.
Founded in 1963, Lyric is Oklahoma's leading professional theatre company. For more than 50 years, Lyric has produced classic and contemporary musicals and plays featuring both nationally known Broadway stars and local favorites. It is currently under the leadership of Producing Artistic Director Michael Baron and Managing Director Jim Reynolds. Lyric Theatre is a non-profit organization.
Copyright 2017 The Gayly – August 1, 2017 @ 10:45 CDT.