OKC's Roxie Hart wins Miss Gay USofA title
by Robin Dorner
Editor in Chief
Young Jacob Sparso started dancing when he was eight years old. Living in Denmark at the time, he was accepted into The Royal Danish Ballet's acclaimed ballet school, where he also received his academics.
Little did he know back then that someday he would win many pageant titles as "Roxie Hart" and go on to win the coveted title of Miss Gay USofA.
Roxie Hart has won National Entertainer of The Year 2000 (national title), Miss Gay Oklahoma America 2011, Miss Gay USofA Classic 2015 (national title), Miss Gay USofA 2017 (national title) as well as many prelim titles.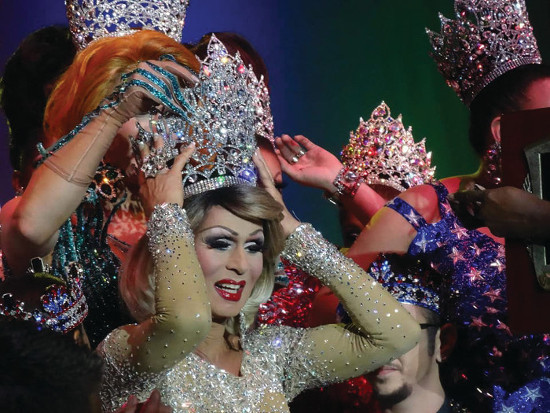 Sparso danced with The Royal Ballet of Flanders in Belgium for three years. He has guested with the all-male dance troupe, Les Ballet De Trockadero, four times. He has staged ballets in Europe and the states as well as having choreographed numerous ballets including with the OKC Ballet.
Sparso came to the United States in 1980 and has been here since.
"When I moved to Dallas I used to go out and I would see the drag shows. I always said to myself, 'I can do that,'" said Hart in an exclusive interview with The Gayly. "Already being a performer, it was very appealing to me; all the glitz and glamour, but mostly because of the performance aspect of it. So, I did my first amateur show in Dallas in 1982 (don't even try to do the math!). I was first runner up. Next week I won and like they say, 'the rest is history.'"
Hart said competing was really to prove to herself that she was good enough. "But the truth is, you never are. Even after all these years, I get extremely nervous.
"As a dancer, I have danced all over the world, for Kings and Queens, from The Met in New York to live TV productions. As I got older, the nerves really set in, almost to the point of stage fright, well, it was exactly that. And the same fright carried over into my drag performance.
"Even after all these pageants, I still find it very hard to compete; I'm a performer, not a competitor. Even winning Miss Gay USofA, I'm still so very critical of myself, almost to a fault."
The entertainer/dancer moved to OKC in 1996 and right away started doing drag shows. "The support and love for drag entertainment, or any entertainment, is tremendous here. It has allowed me to work in pretty much all the gay clubs in OKC. We have some of the finest entertainers right here in OKC."
Hart said she has been fortunate enough to call The Boom in OKC her home bar for many years. "When Kitty Bob Aimes and John Gibbons opened their first club, also called The Boom, it was only natural for me to join them after we had worked together for years. When the late Tony Sinclair asked me to work one summer at Tramps, 'for just the summer,' it ended up being... well, I'm still there, and again, don't try to do the math!"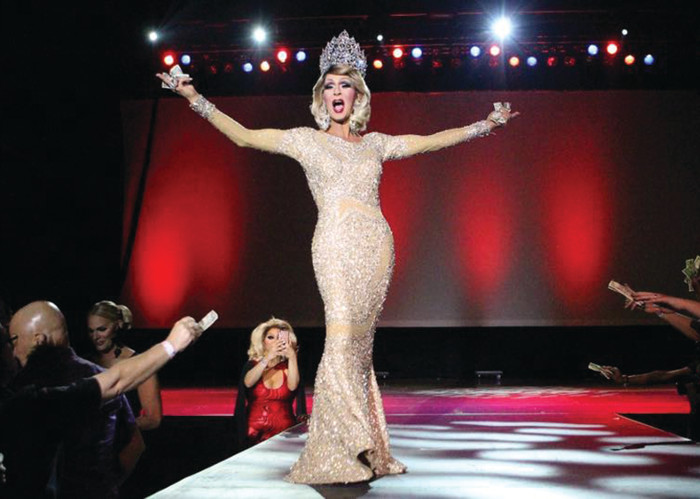 Sparso also danced with Ballet Oklahoma from 1996-2008 and became ballet master for the new Oklahoma City Ballet in 2008-2016.
It's going to be a busy year. "The role of my job as Miss Gay USofA is to be at every preliminary contestaround the country, helping contestants with any questions they might have, make sure that the pageant runs smooth and correctly. [I also] look for new promoters in parts of the country where there are none."
She also said part of her role is to inspire contestants and promoters. She will get them ready, so when the winners from all the preliminaries meet at nationals, they are ready to shine and show off their best.
Hart will represent the Miss Gay USofA system at many other functions.
"It's a lot of traveling and waiting in airports, not my favorite part at all. But what is my favorite part of this job, because it is a job, is meeting all the people on my travels, contestants, promoters, fans and friends.
"I must say it feels a little surreal at the moment, something I could only have dreamed of. And I have to say a big thank you to all my fellow performers, community, friends and fans for all their help and support to help me become your Miss Gay USofA 2017 from Oklahoma."
___
Copyright The Gayly - 7/1/2017 @ 8:30 a.m. CST