Professor gives quiz called "Female Or Shemale"
Officials at State University of New York College at Geneseo are looking into one of the school's sociology professors after he allegedly asked students to pick out trans women from a series of pictures in a slide titled "Female or Shemale."
Students say the professor also told them, "You don't want to get too drunk or you'll go home with the wrong one."
Criticism over the presentation prompted the university's president, Denise A. Battles, to respond.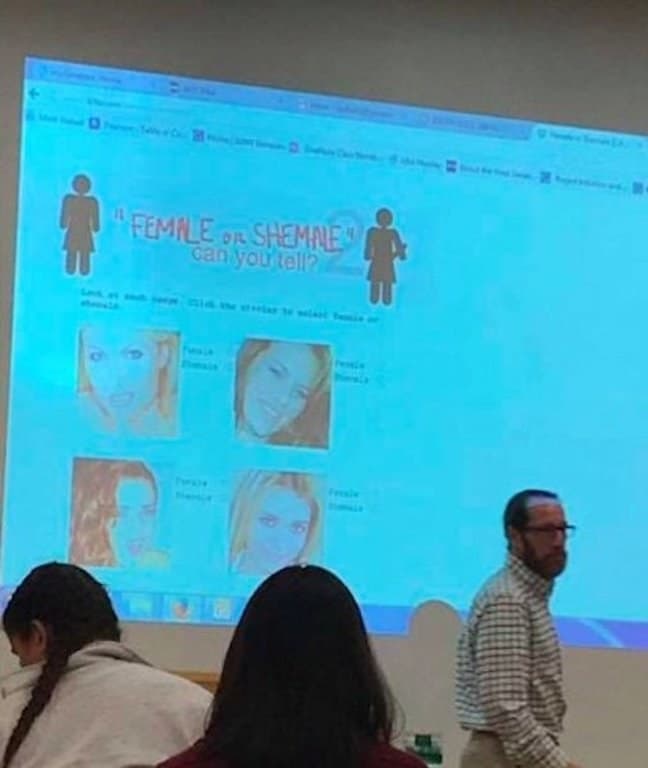 "A professor is reported to have presented materials and made comments about which some students have expressed concern," Battles said in a statement Friday evening. "We are taking the matter very seriously and are gathering the facts to determine if and what action is warranted."
Jillian Sternberg, a sophomore who took the picture now circulating online, said that she and other students were disturbed by the classroom activity.
The topic of the class session, held on Wednesday, was gender, sexuality and sexual identity, Stemberg said, but students were taken aback not just by the impromptu quiz but also by the explanation of the activity given by the professor, David Sorbello.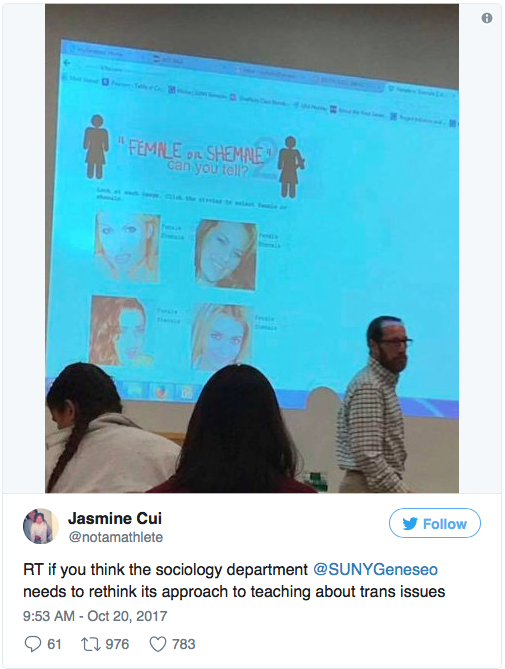 The session, however, didn't include any discussion about sexual dimorphism, or the physical, non-reproductive differences between males and females of the same species, she said.
Sorbello also made comments that were disturbing to students, Stemberg said.
"He said something along the lines of, 'Be careful not to get too drunk or you'll take the wrong one home,'" she explained. "He would comment on some of the pictures like, 'I'm definitely not going to the bar with you.'"
After the class, Sternberg said she and a friend approached him to tell him they were uncomfortable with the material, and to try understand the goal of the activity. She said Sorbello apologized that they didn't find it funny, and then said he believed the only way he could approach the subject was through humor.
More stories on anti-trans topics:
Sessions gets law dead wrong on transgender protections
'Bathroom bill' dies again in Texas as session abruptly ends
Anti-trans activists in Washington state fail
"He was very mad that we were calling him out," she said. She added that she later emailed Sorbello to apologize, and say she could have approached him differently, but continued to stress that she found the material offensive.
Stemberg said that she has not yet received a response to the email she sent Sorbello, but that she did receive a class-wide email notifying students that phones, laptops, and photo-taking will now be banned from his class. Sternberg said students were previously allowed to take pictures of the class slides to use as study materials.
As the image has circulated on campus and beyond, Stemberg said she is encouraged to see the support and reaction from students. She expressed concern about the angry reactions from some students and alumni who have criticized the university over the incident, but she said she hasn't had other negative encounters on campus.
"That makes me really upset because I don't want it to be our reputation," she said. "I love my school."
Information was gathered from this article. 
Copyright The Gayly - 10/22/2017 5:20 p.m. CST.