Rocky's Bar: A place for everyone
by Victoria Backle
Staff Writer
Rocky's Bar is a new hidden treasure in Wichita's gay scene. It is owned by Rocky Cornelson, a longtime bartender who is proud of her new establishment and all it's doing for the LGBTQ community in Wichita. She has made sure that the bar is a place where everyone, regardless of who they are or where they come from, can enjoy its relaxed ambience.
Rocky's has only been open for eight months, but it opened to a full house and continues to be open-minded and experimental as they move forward.
"We're trying different things out," said Cornelson. "It's a place where people can come and visit in a laid-back atmosphere."
The bar's patrons range from all gender expressions and ages, but the owner prides herself on the fact that it's a place for the women in Wichita to have a safe, fun and relaxed hangout space. Many gay bars in the area often cater to men in the community and Cornelson felt a need to have a bar that focuses on women's needs.
"It gives the girls a place to go," Cornelson confirmed.
Aside from its light-hearted atmosphere, the bar is host to numerous events. They have their own pool and dart leagues, which convene on a regular basis. Rocky's also has a live DJ on the weekends and they host karaoke on occasion. Cornelson explained that they have yet to have a live band in the bar, but are experimenting with the idea for future events.
The Wichita Prime Timers are also regular patrons at Rocky's. They're a social organization that caters to older bisexual and gay men. The group is known to better their community with volunteerism, involvement with politics, gay issues, arts and entertainment. Cornelson commented that they occasionally come into the bar and dance for fundraising efforts.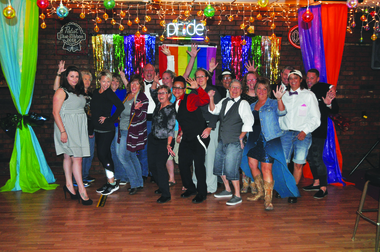 Patrons enjoying Rocky's classic setting. Photo by Robin Dorner.
Rocky's Bar is tucked away at 604 S. Topeka St. in Wichita and their contact number is (316) 440-4979. Make sure to check them out if you're in the Wichita area and want to experience a great time and an experienced bartender.
_
Copyright 2017 The Gayly - 2/16/2017 @ 7:34 a.m.