RuPaul to get a star on Hollywood's Walk Of Fame
by Rob Howard
Associate Editor
RuPaul Charles, the super-star host of hit TV sensation RuPaul's Drag Race has been named to receive a long-deserved star on the Hollywood Walk of Fame.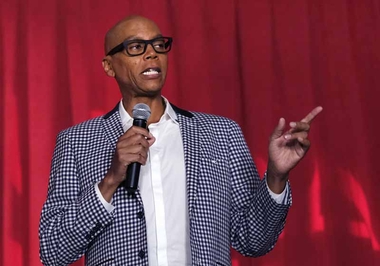 "Emmy Award winning singer and actress RuPaul is sashaying her way to the Hollywood Walk of Fame," reported LGBTQnation.com. "Everyone's favorite drag queen will join gay American Horror Story and Glee producer Ryan Murphy as part of the iconic who's-who of entertainment."
The "most famous drag queen in the world" broke the news of his selection in a Twitter post Thursday night, according to HuffingtonPost.com. They reported, ""my heart is beating so fast right now!" quoting the star.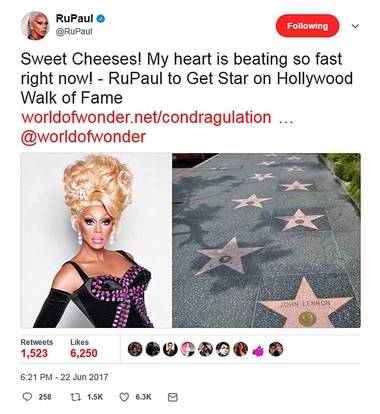 Tonight, RuPaul will be completing Season 9 of his hit show, RuPaul's Drag Race.
According to Papermag.com, reporting on the selection of the drag star for a literal star, "Yesterday the Hollywood Chamber of Commerce announced it would be giving RuPaul a star on the Hollywood Walk of Fame, that ne plus ultra of runways.
"And what apt timing considering tonight she will cement her own star of sorts, the winner of RuPaul's Drag Race Season 9, and cap off a year of 10s, 10s, 10s across the board: the Emmy in September for reality show host, the engrossing All Stars 2 last fall, and the switch to the high-wattage platform of VH1 from the more provincial Logo Network for this current season. All signifiers that RuPaul has taken her latest, and arguably most sizable, juicy and successful, bite out of the show biz apple, the first of which she took some three plus decades ago."
Christopher Barnard, concluding the Papermag article, said, "I have always found it a fool's errand to claim one season of Drag Race is better than any previous one and then set about trying to prove it. Are we not as equally engrossed in Aja v. Valentina as we were with Phi Phi v. Sharon?
"Is the dull, crestfallen ache of Valentina's rollover lip sync just as real as when Cynthia Lee lost to Robbie Turner in her first season? "But it is the art of the queens and the truth of drag that decorates the same feelings, the same stories in different and compelling ways that make it all entertaining and compelling television each successive season: the hardscrabble back story queen made good; the beautiful but doomed ingénue; the big girl who finally caught a break (and then broke a knee).
"And in a moment when the very notion and health of the people on the show and the core viewership are in danger of being legislated out of existence, it is delicious and dead serious fun to see their stories writ large every Friday night on a slick, primetime cable network. Is Drag Race then by extension political? There is a slim argument for that, but it will always, no matter how slick and popular, be radical."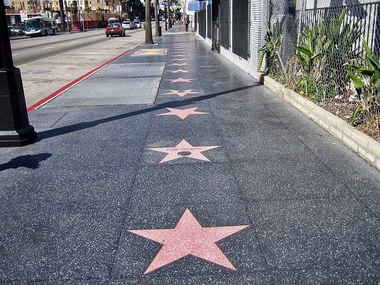 Congratulations, RuPaul! You deserve this star!
Copyright 2017 The Gayly – June 23, 2017 @ 1:30 p.m.