RuPaul under fire for comments about transgender contestants on 'Drag Race'
RuPaul, the world-famous drag queen and host of VH1′s critically acclaimed RuPaul's Drag Race franchise, is facing backlash for comments made about allowing openly transgender contestants to compete on his hit reality program.
The initial comments appeared in a profile of RuPaul in The Guardian. "Drag loses its sense of danger and its sense of irony once it's not men doing it, because at its core it's a social statement and a big f-you to male-dominated culture," RuPaul said in the interview. "So for men to do it, it's really punk rock, because it's a real rejection of masculinity."
The interviewer then asked about Season 9 contestant Peppermint, the first openly transgender woman to compete on Drag Race.
"Mmmm. It's an interesting area," RuPaul responded. "Peppermint didn't get breast implants until after she left our show; she was identifying as a woman, but she hadn't really transitioned."
The interviewer then followed up, asking Ru if he would accept a contestant who had "really transitioned" onto the show. The Drag Race host responded by saying, "Probably not. You can identify as a woman and say you're transitioning, but it changes once you start changing your body. It takes on a different thing; it changes the whole concept of what we're doing. We've had some girls who've had some injections in the face and maybe a little bit in the butt here and there, but they haven't transitioned."
Over the weekend, Ru began facing backlash for these initial comments. But the reality star then doubled down on his statements, re-sharing The Guardian interview Monday morning on his Twitter and posting a series of controversial tweets.
Monica Beverly Hillz, another former contestant who came out as trans during the fifth season of Drag Race, told Into, "I've always been a woman, so what I've done to my body or that I hadn't started hormones while on the show doesn't take away my identity. Our bodies do not equate our identity."
Drag Race faced criticism in the past for using the phrase "she-mail," which many viewers perceived as transphobic. The show's producers stopped using the controversial phrase in 2014.
RuPaul addressed the controversy on Twitter Monday evening, saying he regretted "the hurt I have caused."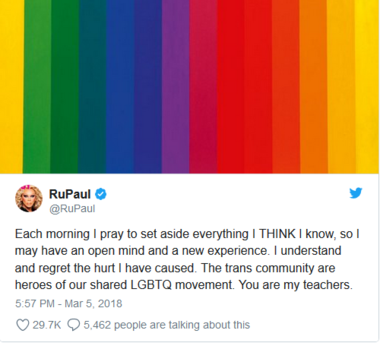 "The trans community are heroes of our shared LGBTQ movement. You are my teachers," he said. On "Drag Race," he noted, "the only thing we've ever screened for is charisma uniqueness nerve and talent."
"And that will never change," he concluded.
The Gayly. March 6, 2018. 10:02 a.m. CST.