Sisters Get their Kicks on Route 66
by Sara Ritsch
Staff Writer
Sisters on the Fly is the largest adventure-based group of women in the country – and maybe the most fun. It began in 1999 with two sisters who loved to camp and fly fish. Today, Sisters on the Fly has about 7,000 members and over 300 participants on their most recent excursion from Chicago to Santa Monica, the extent of Route 66.
Bumping along in a line of vintage trailers and everything from a 5th wheel to a Prius, this 25-day trip with 14 stops was a huge undertaking for these women. Although more than 300 joined in the travels, only 30 of them stayed for the entire distance. These few women are dubbed the "All the Way Girls", but altogether, the Sisters are just one giant family.
"We're a diverse group of women," Karen West says. She and her life partner, Susan Ford-West, are the authors of Sisters Get Their Kicks on Route 66, a photography-filled book that tells the tale of their entire journey. "It's the most welcoming and open group of women I've ever associated with, with differences in religion, politics and sexual orientation. I've never felt more welcome in a group."
The sisters have two mottos. "We have more fun than anyone, and we turn women into girls!"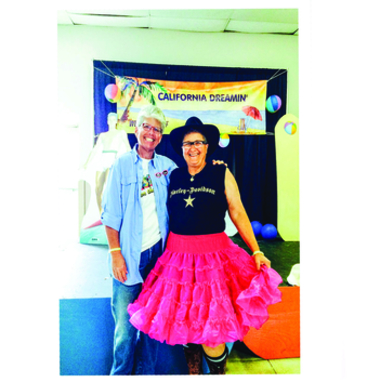 "All of our personal politics and persuasions are set aside, and we come together to form a sisterhood and a community. We just get together and dress up, like a cowgirl theme – it ranks back to Girl Scouts. We earn badges for martinis, cigar smoking and 'naked nymph' badges. All kinds of craziness."
The creators of this community, Sister #1 and Sister #2, are Maurrie Sussman and Becky Clarke. They lead larger groups of women on major river and fly fishing trips. Their mother, Mazie Morrison, or Sister #0, passed away the day before her 95th birthday and never got to travel down Route 66. Her life inspired the trip down that long, iconic road, so the Wests' book Sisters Get Their Kicks on Route 66 is dedicated to her, and the Sisters formed a foundation in her name.
Ten percent of the proceeds from selling their book goes straight to the Mazie Morrison Foundation, helping to give scholarships to women and children for outdoor education and for breast cancer recovery programs.
"The most fun of all was in Oklahoma City," West says about her own section of the book. She describes going to 'the rodeo,' but not realizing it was an invitation sent by the Oklahoma Gay Rodeo Association. She expected to walk into a…well, a straight rodeo.
"I was the only one who didn't know it was the gay rodeo. It was hysterical. I walked in and saw Mr. and Mrs. Gay Rodeo and all of the Sisters embracing them – [we're] probably ten percent lesbians, too. We led the promenade into the rodeo ground. It was the funniest thing, and they loved it. That was our favorite day!"
While their trip seems like it was all sunshine and rainbows, these wild women were bound to run into some complications. Nothing was too rough to handle though, from tornados to broken vehicles; and even the most seemingly insurmountable setbacks were resolved with sisterhood and quesadillas.
At one point, West's aversion to maps led them down the oldest path of Route 66 still in existence. "The beauty of it was how the sisters pulled together and nobody was ever left behind," West says.
Sisters Get Their Kicks on Route 66 is unique in that it is not only a travel book nor a coffee table aesthetic. It tells the story of these adventurous women who took a break from their onerous lives to travel and learn about themselves, the world and the nature of womanhood.
"Through photography and stories of courage and empowerment, grief and moving on, sisterhood and camaraderie, this photo journal will urge you to embark upon your own journey that has been tugging at your heartstrings." Karen West and Susan Ford-West.
The Gayly - 5/17/2016 @ 12:54 p.m. CDT