"Summer Heat International Dance Festival" to thrill Tulsa
Tulsa again becomes the regional focus of contemporary dance in late July and early August with the second annual Summer Heat International Dance Festival, presented by Choregus Productions. The festival opens with a Gala Performance July 28 at the Tulsa Performing Arts Center featuring guest artists from the Joffrey Ballet, the Ballet du Grand theatre de Geneve, Move: The Company and a number of independent artists.
Following days of the festival feature performances by the internationally acclaimed Ballet du Grand Théâtre de Genève (2 exciting programs), The Paul Taylor Dance Company, and Brian Brooks: Wilderness. The festival includes a Summer Intensive taught by Brian Brooks, master classes for advanced dancers and additional outreach activities, providing dance experiences for everyone.
Saturday, July 29, one of Europe's most prestigious dance companies, Ballet du Grand Théâtre de Genève, makes its inaugural Oklahoma appearance with the sensual and visually exciting Carmina Burana. The French choreographer Claude Brumachon embraces Carl Orff's medieval cantata in a multidimensional act of artistic faith, intent on using the body as a vector for virtuosity, sensation, and emotion.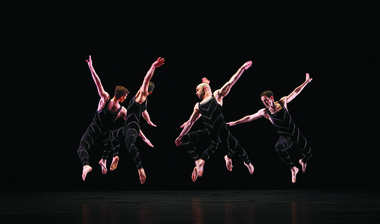 "Promethean Fire" by the Paul Taylor Dance Company. Photo Paul B. Goode.
The Paul Taylor Dance Company is up next. The company sets the global standard for contemporary dance excellence. Since the company's founding in 1954, Mr. Taylor has choreographed 144 dances, many of which have attained iconic status and have been celebrated throughout the world. The July 30 program includes Airs and Promethean Fire, choreographed by Paul Taylor, and Continuum, a new commission by guest choreographer Lila York.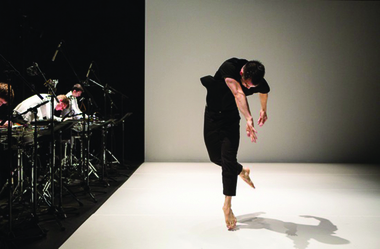 Choreographer Brian Brooks will perform in the "Summer Heat International Dance Festival". Photo by Yi-Chun Wu.
Ballet du Grand Théâtre de Genève takes the stage again on August 1, to perform to the sparkling and architectural richness of the uncontested Baroque master, Georg Friedrich Händel. In Glory, choreographer Andonis Foniadakis has chosen the unique rhythm and dynamic of the German composer's scores to draw from the dancers an intense presence that is enigmatic, daring, exuberant, joyful, imaginative and still deeply human.
On Sunday, August 6, control and chaos collide in Wilderness, performed by the critically acclaimed and award-winning Brian Brooks and his New York based ensemble with live music by Sandbox Percussion. Within the walls of a pristine white room, an enigmatic world exists at the intersection of order and impulse. Eight dancers hurtle through composer Jerome Begin's relentless percussion score and rise to choreographer Brian Brooks' signature challenge to suspend the limits of the body and the imagination.
Brooks also presents an innovative Intensive during the festival. More information on the Intensive is available at www.choregus.org.
All performances are at the Tulsa PAC's Chapman Music Hall. Tickets are $15 - $60 for each performance, and are available at (918) 688-6112, or purchase online at www.myticketoffice.com.
_
Copyright 2017 The Gayly - 7/18/2017 @ 7:58 a.m. CDT