Supreme Court rules in favor of gay couple in adult adoption
by Rob Howard
Associate Editor
Before marriage equality came to Oklahoma in 2014, many same-sex couples decided on an "adult adoption" to give them many – but not all – of the rights of a married couple. "There are many people in Oklahoma who took advantage of this privilege," says Tulsa attorney Mike Redman.
In an adult adoption, one adult adopts another adult as their child. In 2005, Bruce Schultz and Jared Bruce, a gay couple, were experiencing some medical problems. They decided Schultz would adopt Bruce. Redman says the benefits were many: "The ability to make medical decisions, tax free inheritance and prevention of family members from intervening and trying to claim the estate to the exclusion of the other partner."
After the 2015 Obergefell marriage equality decision by the US Supreme Court, Schultz and Bruce wanted to get married, so they petitioned in Tulsa County District Court to "vacate" the 2005 adoption.
"Judge Glassco [Chief Judge of the Probate Division] wanted to rule in their favor," says Redman. "But he noted, correctly, that there was no provision in Oklahoma law to do that." The next step was to appeal the ruling to the Oklahoma State Supreme Court.
In a unanimous ruling, the Supreme Court said, "As the trial court has already found consent and competency of the parties, upon remand it need only conduct a best-interest determination in deciding the matter. With neither bad faith nor fraudulent motive of the parties, we find no evidence to suggest that the termination of rights herein would not serve their best interests."
They sent the case back to the trial court, which then vacated the adoption. Schultz and Bruce got married February 1.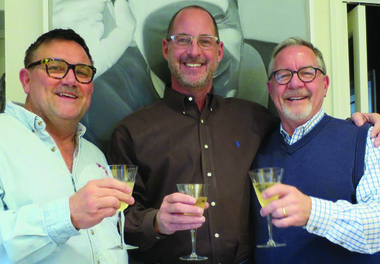 Jared Bruce (L) and Bruce Schultz (R) with their attorney Mike Redman, celebrate the Oklahoma Supreme Court decision vacating Schultz's adult adoption of Bruce. Photo provided.
Although the adult adoption arrangement served same-sex couple well when there was no right to get married, there are many more benefits to being a married couple, than in having a "father-son" relationship.
Redman elaborated, "Besides the medical decision making, inheritance rights and taxes, in a marital relationship you have social security benefits, survivor benefits, pension benefits, protection against being required to testify against each other in a court case and many others.
"No doubt about it, it was beneficial [for Schultz and Bruce] to do this," said Redman.
It was very clear to both the trial court and the state Supreme Court that the case involved a same-sex couple who couldn't get married because they had a father-son relationship. "But they didn't need to address that issue," he says.
For Schultz and Bruce it was a long wait. The case was appealed in November 2015 and it took nearly 15 months to get the decision.
Now, it is easy, according to Redman. The case, "Sets precedent. It is now the law in Oklahoma." He filed another case to vacate an adult adoption on January 30 and the hearing was set for March 3.
"It's not a complicated process," he says. "The process is filing a petition to vacate the adoption, cite it was an adult adoption, on such and such a day, give the case number, that you are requesting to vacate the adoption for the purposes of getting married and that it is in the best interests of the adult adoptee. When it's filed, they set a hearing date; you must have lived in Oklahoma for six months, say why you want to vacate the adoption and present an order. When the judge signs it, you could walk to the county court clerk counter, get a license and get married immediately." The filing fee for the court case is $67.
Redman stresses that it is, "Not a difficult or time consuming process. My goal is to get the word out so people can take advantage of this."
_
Copyright 2017 The Gayly - 3/16/2017 @ 4:06 p.m. CDT