Trans woman found dead in OKC hotel room
By Jordan Redman 
Staff Writer
Police are searching for suspects connected to the murder of a woman discovered early Monday morning inside a northeast Oklahoma City hotel room.
Brooklyn BreYanna Stevenson, 31, was found dead in a room at Oxford Inn, 5301 N Lincoln Blvd., around 2:30 a.m. on Monday. 
Her family released a statement Monday night: "We are heartbroken. Brooklyn BreYanna was an amazing daughter, sister and friend with a giving and loving heart. We pray that those who committed this heinous crime will be identified and Brooklyn will receive justice."
Original reports listed her dead name.
"The name we put out was the one that she was identified as," said MSgt. Gary Knight. "I understand that she was going through the process of having her name legally changed, but I don't know if that process had been completed.
"I talked to the homicide superintendent. The people there at the hotel knew who was in that room and provided the name to us." 
He continued saying, "We don't put that out there to step on anybody's toes, that was the name we had and that's why we put it out like that. We don't put the name out until we have what we know to be the official name.
"If you go online there were court dates where she was trying to get her name changed, but to me it looks like it was never officially changed."
Olivia Blüm knew Stevenson. "She really was special and talented. We went to night school together and had late night chats. She didn't have it easy I hate this happened to her. She was very talented in hair, makeup and fashion. She had it difficult when she finally came out as who she really was her family was supportive but her world wasn't. I'm just devastated for her."
Blüm said a lot of her friends had no idea it was her because early reports listed her dead name.
"She deserves respect. She always lit up a room, she was very funny, beautiful and very understanding. She was so loved."
Since the start of the year, at least 25 transgender people have been killed in the U.S., the most on record. Eighty-four percent were people of color, and 80 percent were women. Since January 2013, the Human Rights Campaign has documented at least 102 transgender people who were victims of fatal violence; at least 87 were transgender people of color. And these disturbing numbers likely underreport deadly violence targeting transgender people, who may not be properly identified as transgender.
More on The Gayly's coverage of transgender homicides: 
21st transgender murder victim
New details arise in murder of Charlotte trans woman
Georgia man arrested in trans murder
Maryland man found guilty in killing of transgender woman
Baltimore police investigating murder of transgender woman
The OKC community is devastated by the loss of Brooklyn. Anyone with information should call the homicide tip line (405) 297-1200.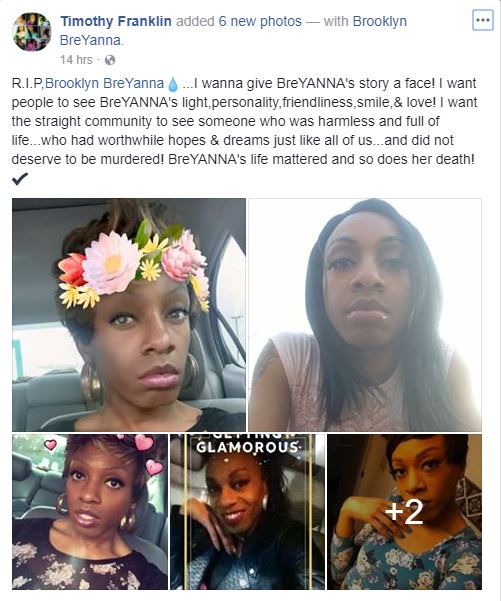 Copyright The Gayly – November 28, 2017 @ 1:45 p.m. CST.