Trump, other GOP leaders speak at anti-LGBTQ group's conference
by Rob Howard
Associate Editor
President Donald Trump, who chose not to issue a proclamation declaring June as LGBTQ Pride Month,  instead observed the month by speaking at an anti-LGBTQ organizations conference in Washington today, June 8. The "Road to Majority" conference is an extremist gathering hosted by the homophobic Faith and Freedom Coalition.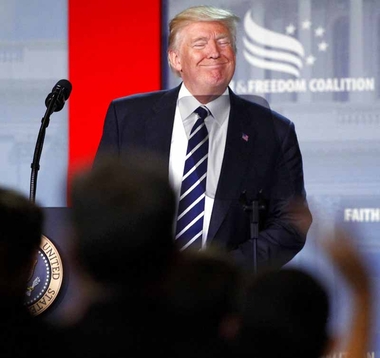 The Associated Press reported "'We will always support our evangelical community and defend your right and the right of all Americans to follow and to live by the teachings of their faith,' the president told more than 1,000 activists.
"'And as you know, we're under siege, you understand that. But we will come out bigger and better and stronger than ever. You watch,' Trump said. 'You fought hard for me and now I'm fighting hard for all of you.'"
Other GOP leaders confirmed as speakers for the conference, according to the Faith and Freedom Coalition's website, include Vice President Mike Pence, House Majority Leader Kevin McCarthy, House Majority Whip Rep. Steve Scalise (LA) in addition to seven other GOP representatives.
Senators Ted Cruz (R-TX), Joni Ernst (R-IA) and David Perdue (R-GA) were also confirmed speakers, as was Texas Attorney General Ken Paxton.
A statement from GLAAD's Director of News & Rapid Response, Drew Anderson, said, "GLAAD, the world's largest LGBTQ media advocacy organization, today called out President Donald Trump for putting anti-LGBTQ activists ahead LGBTQ Americans during LGBTQ Pride Month. So far this June, Trump broke from tradition by refusing to issue a presidential proclamation that celebrates the LGBTQ community, opting instead to recognize Great Outdoors Month and National Ocean Month. Now, just days before Washington, D.C.'s Capitol Pride and the National Equality March, President Trump is going out of his way to deliver a speech to anti-LGBTQ activists at a conference hosted by the Faith and Freedom Coalition. The Coalition, founded by Ralph Reed, has a long record of anti-LGBTQ activism, including opposing marriage equality and lobbying against the Employment Non-Discrimination Act (ENDA)." (Read GLAAD's full statement here.)
"President Trump's negligence at the start of Pride month provided another example that this administration is no friend to the community," said Sarah Kate Ellis, President and CEO of GLAAD. "While the Trump Administration tries to systematically erase LGBTQ people and families from the fabric of this nation, LGBTQ Americans and allies must do what we know best this Pride month—stay visible and march for acceptance."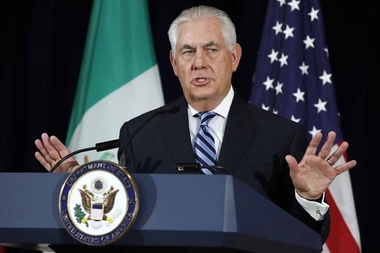 Showing continued mixed signals from the Trump administration, Secretary of State Rex Tillerson on Wednesday recognized what he called LGBTI Pride Month, saying, "In recognition of LGBTI Month, the Department of State affirms its solidarity with the human rights defenders and civil society organizations working around the world to uphold the fundamental freedoms of LGBTI persons to live with dignity and freedom.
We also recognize that LGBTI persons continue to face the threat of violence and discrimination. Violence and discrimination targeting any vulnerable group undermines our collective security as well as American values. When all persons are protected on the basis of equality and with dignity, global stability is strengthened. We will continue to support the human rights of LGBTI persons together with like-minded governments, businesses, and civil society organizations globally.
The United States remains committed to human rights and fundamental freedoms for all persons. Dignity and equality for all persons are among our founding constitutional principles, and these principles continue to drive U.S. diplomacy.
Copyright 2017 The Gayly – June 8, 2017 @ 5:10 p.m.