Trump robot joins Disney's Hall of Presidents – Twitter explodes
Walt Disney World has added President Donald Trump to its popular Hall of Presidents in the Magic Kingdom. The show has robotic figures of several past presidents, including Abraham Lincoln, Barack Obama and Bill Clinton. To make the robot as close to true-life as possible, Disney asked that the White House provide Trump's exact measurements.
The Trump robot has a speaking part; President Trump himself recorded the speech.
Not everyone was happy about the speaking part. Weeks before his inauguration, rumors of silencing the robotic version of Trump circulated in part due to a Change.org petition signed by over 15,000 people who demanded that Disney break with precedent. The overall argument to muzzle Trump was because of his history of making "degrading, insulting and demeaning" comments throughout the election about "misogyny, racism and xenophobia," according to Peoplepolitics.
The exhibit closed in January. Disney scheduled it to open in July for Independence Day, but delayed the opening several times, reportedly because Trump had yet to record the speech.
Social media reacted to the news of animatronic Trump's installation. It wasn't kind, with posts making fun of everything from the robot's presence, to its appearance and the Trump recorded speech.
A few samples: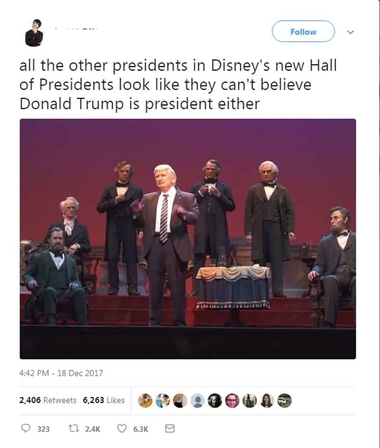 Some thought the Trump robot looked more like actor Jon Voight.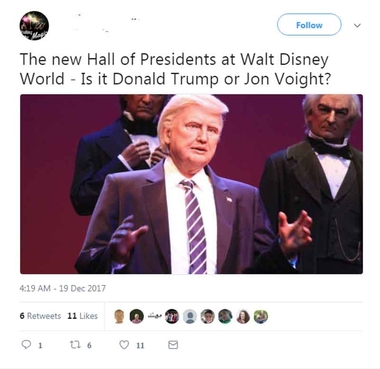 Others were even less kind, leading to comments like this.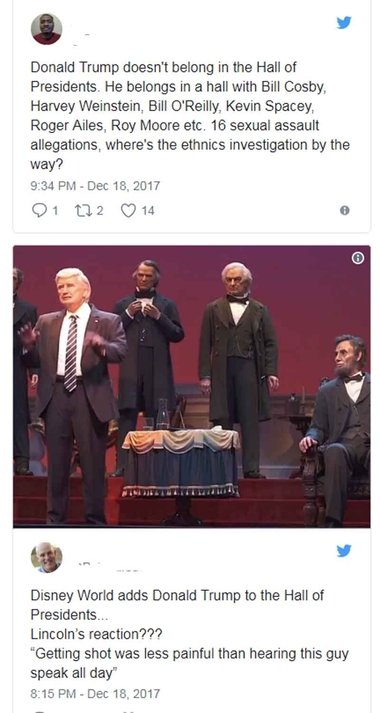 Copyright The Gayly – December 19, 2017 @ 1:30 p.m. CST.