Trump says winner of 'most dishonest' network contest will win a 'FAKE NEWS TROPHY'
On his first morning back in Washington, President Trump suggested that a contest may be in order to determine which news network is the "most dishonest" in its coverage of him.
"Winner to receive the FAKE NEWS TROPHY!" he said in the tweet.
Left out of his challenge: Fox News, the network most likely to have favorable news coverage of his administration.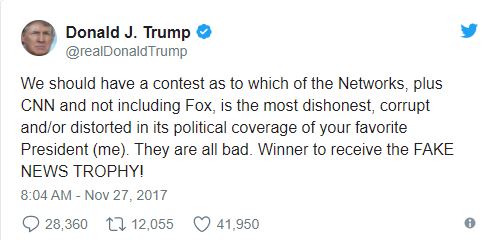 The tweet, stemming from the media attacks he's made since before taking office, seemed to build off a statement he made this weekend about the importance of the conservative news network in America. He also insisted that CNN was representing the United States "poorly" to the world. CNN was quick to respond. 
Read The Gayly's coverage of the CNN feud here. 
"The outside world does not see the truth about them," he said.
Also, read The Gayly's coverage of the TIME feud here. 
Copyright The Gayly – November 27, 2017 @ 10:00 a.m. CST.