Tulsa PFLAG: Leading the way
by Robin Dorner
Editor in Chief
"When our daughter came out to us as a lesbian, we were really at a loss as how to be supportive," said Nancy McDonald, one of the co-founders of Tulsa PFLAG.
"We loved her, but experienced the same feeling as most parents," she disclosed. "Would she be safe, what kind of discrimination would she experience, would and how would we tell the extended family?"
PFLAG is Parents, Families and Friends of Lesbians and Gays. It's the largest organization in the U.S. for parents, families, friends and allies united with LGBT+ people.
McDonald says the connections people make at PFLAG meetings are vital for any and all family and friends who need someone to talk to.
In March of 1987, Tulsa PFLAG was the first chapter organized in Oklahoma. Founding members were Nancy and Joe McDonald, Judy Crumrine and "Carolyn," who wishes to only be identified by her first name.
Since that time, McDonald says the organization has been blazing a trail for the parents, family and friends of the LGBT+ community to become involved as better allies to their loved ones. At one point, Tulsa's Chapter had about 160 members.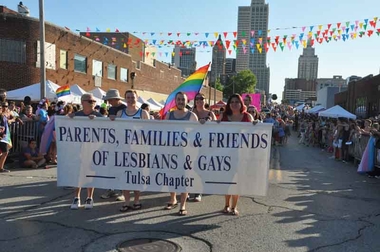 "The reason the Chapter membership was so large is that many gays and lesbians sought out PFLAG as a social activity," reflected McDonald, who is the current president of Tulsa PFLAG. "They did not have a church affiliation or did not enjoy the bar scene.
"Once Oklahomans for Equality (OkEq) opened in Tulsa, more LGBT+ members of the chapter had a new place to go. However, PFLAG and OkEq keep in close touch and work closely to fight for more inclusive policies and regulations in the schools, city and county government as well as social service agencies."
McDonald went on to give further account of the organization's work in the community. "We sponsor the Annual Holiday Dinner in December and actively support Tulsa Pride. We also do an annual exhibit at the Tulsa City County Library and each year send packets of information about PFLAG to every school counselor in Tulsa County and many ministers."
This all goes without mentioning their dedication to education, from sponsoring sensitivity workshops for teachers and administrators to contributions given to the Joe and Nancy McDonald Rainbow Library at OkEq and supporting the Tulsa Reaches OUT scholarship fund for LGBT+ high school seniors.
The chapter encourages all family and friends as well as LGBT+ people themselves to attend meetings. Beside their strides in advocacy and education, the group meetings also provide the opportunity for support.
The support group, more geared towards friends, family and allies, is led by a skilled facilitator and considered by McDonald to be invaluable, especially considering her own experiences.
"It is of tremendous value for a parent to talk to another parent, a sister to talk to another sister and so on, to learn how to be supportive, to educate additional persons and at some point, to advocate for equal rights for our LGBT+ loved ones."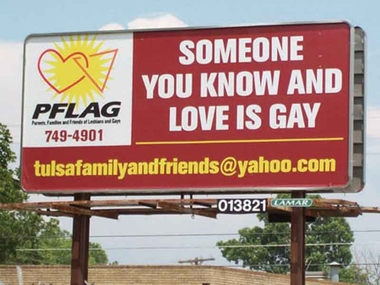 McDonald said she is "indebted to PFLAG" for all the valuable friendships and connections she has made in her journey with the organization.
PFLAG Tulsa meetings are held at All Souls Unitarian Church at 2952 South Peoria on the second Monday of every month starting at 6:30 p.m. Both allies and LGBT+ community members are welcome to attend.
For more information, visit www.pflagtulsa.org or connect with their Facebook page. To contact PFLAG Tulsa confidentially, email them at tulsafamilyandfriends@yahoo.com.
Copyright The Gayly – September 11, 2017 @ 7:30 a.m. CDT.