by Vick Silkenpen
In The Turn: I seem to enjoy using the word "synergy" when two or more themes of a film interact to produce a combined effect greater than the sum of their separate effects. But when it fits, it fits. 
Filmmaker Erica Tremblay perhaps decided to count on the effect of unfolding this story of a 10-year-old transgender girl living in rural Canada named Crystal and interweaving it with the international queer network collective of roller derby players called the Vagine Regime (VR).
Crystal's mom learns of the VR online and relates Crystal's non-acceptance struggles with sports and bouts of being taunted, thrown in a dumpster and other bullying. The sisterhood of the VR is concerned enough to have fundraisers for Crystal so she can fly and attend their junior roller derby camp in California where her self-esteem obviously blooms.
Before and during the process of getting Crystal through her confidence jams, Tremblay interviews colorful VR players around the U.S. with clever and flashy skater names (Tremblay's roller derby moniker is GoGo Gidget) who talk of their own challenge blocks they had to get by to find authenticity and strength.
It all comes full circle so beautifully that by the end you not only root for Crystal but you also will never view roller derby the same way ever again. This doc is now available from Amazon and iTunes. 
I'll See You In My Dreams: Bracketed within a bit of a dog story, Blythe Danner proves that if the character is correct for her, she can carry it like it had handles on it.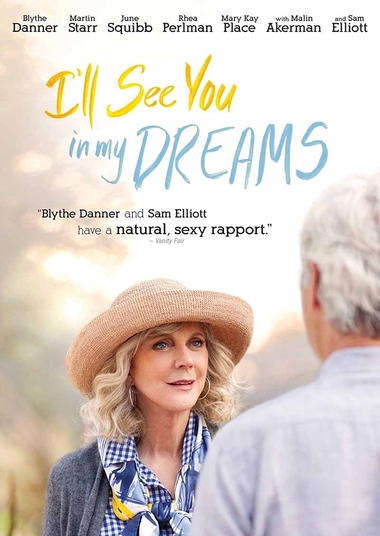 Danner plays a widow of several decades living in a retirement community, who is vaulted into new situations after her beloved old dog is euthanized. Rather than mourning and isolation continuing to be dominant, she is thrown into very funny encounters with vibrant friends played incredibly well by the more than capable actresses Mary Kay Place, Rhea Perlman and June Squibb.
Martin Starr enters her life as the young pool boy who develops a highly unique friendship with her as she helps him discover more about his own possibilities ahead. But by far the most heartfelt role is when Sam Elliott shows up as the new love interest. He takes his allotment of time with her and turns it into a heartrendingly bittersweet performance.
Director and writer Brett Haley has a black rat come and go at times in Danner's apartment which serves well as a metaphor for death popping in for visits. By far the best aspect is that this film totally avoids clichéd dishonesties and instead looks glaringly ahead to the possibilities of life when some "ifs" are allowed in.
Copyright 2017 The Gayly – January 27, 2017 @ 12:50 p.m.