We are far from total inclusivity in the cosmetic industry
By Jordan Redman
Op-Ed
Fenty Beauty is a start. A significant win for people of color in the cosmetic industry.
If you are in any way connected to the beauty world, you have probably heard that Rihanna released Fenty Beauty, a beauty line specifically made to cater to people of color. The line included 40 shades of foundation, various shades of highlighters and contour/concealer sticks to suit many different skin tones.
Since its inception, the cosmetic industry has catered to those lighter in complexion. Though we're in 2017, many brands still only cater to those lighter in complexion. Several brands operate under the falsehood that having one or two shades for darker complexions somehow excludes their brand from the conversation concerning lack of representation for people of color in the cosmetic industry.
Notice I am saying people of color. People. Not women. People, which brings me to my next point.
Not only does the cosmetic industry often fail people of color, they the non-gender conforming community by failing to include them in advertising campaigns and product development consideration.
For example, Lancôme has one of the most extensive shade ranges in the game. Lancôme includes shades for everyone, from very light to very dark. Lupita Nyong'o shined as Lancôme's ambassador for the Teint Idole Ultra 24-hour foundation. But where is Lancôme's ad campaign marketing their extensive shade range the non-gender conforming community?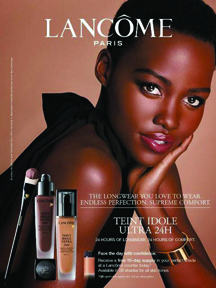 Where is the representation for anyone outside the normalized gender box?
L'Oréal has recently made headlines for becoming to first brand to hire (and fire) their first transgender person of color to be the face of their new campaign. Munroe Bergdorf was hired to appear in the YoursTruly True Match ad campaign. Days after the news broke, Bergdorf was fired for her comments regarding racism.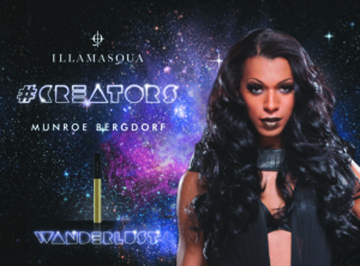 To see other stories about Munroe Bergdorf:
L'Oréal trans model fired after writing controversial Facebook post
Trans model fired by L'Oréal now face of Illamasqua
"We believe that the recent comments by L'Oréal Paris UK Spokesperson Munroe Bergdorf are at odds with those values, and as such we have taken the decision to end the partnership with her. L'Oréal Paris remains committed to the True Match campaign and breaking down barriers in beauty."
Bergdorf is now the face of Illamasqua, a brand with a more tolerant attitude towards free speech, especially speech from a person of color on racism.
Though Bergdorf's start was headline heavy, it is still a positive contribution of representation for the transgender community.
Question remains. Where is the representation for anyone outside the normalized gender box?
Where is the ad campaign for the masculine gay man wanting to rock a smoky eye? Where are the elegantly constructed print ads for androgynous people wanting a sharp contour or highlighted cheekbones? Where are the heavily-scripted commercials for a straight man wanting to conceal his dark circles?
I don't want to hear that there isn't a market for these communities. Make up is for everyone and needs to be marketed as such. Each group deserves equal representation.
The cosmetic industry must understand that the steps taken so far may as well have been tip toes in the right direction.
There is still so much work to be done.
Copyright The Gayly 9/26/2017 @ 3:36 P.M. CST