What would Martin Luther King Jr. say?
By Bruce Hartley
Life Issues Columnist
As we move into January and celebrate Martin Luther King Jr. Day, it reminds me of a recent speech by a student of mine at Rogers State University. The speech was titled "More Color More Pride."
The speech discussed the history of the rainbow flag and questioned if it truly represented all people or not. The student was asking the class to support the idea of adding a black and brown stripe to the rainbow flag.
Martin Luther King Jr. was the voice of equality for us all. We honor him in January, and I wonder what he would think about the idea of adding more colors such as brown and black to the rainbow flag. Would he agree or disagree?
Consider the following information as you contemplate this idea.
In 1978, Gilbert Baker created the rainbow flag. Baker was an American artist and gay rights activist. Baker's flag became widely associated with LGBT+ rights causes, a symbol of gay pride that has become part of our evolving world since its debut.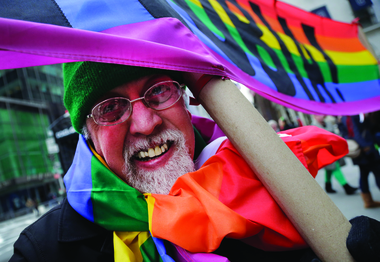 The original rainbow flag had eight stripes (from top to bottom):  Hot pink for sex, red for life, orange for healing, yellow for sun, green for serenity with nature, turquoise for art, indigo for harmony and violet for spirit.
During 1998; Baker dropped two of the stripes (hot pink and turquoise) and replaced the indigo stripe with royal blue. The International Congress of Flag Makers recognizes the six-striped version.
Fast forward to June 2017 when Philadelphia revised the rainbow flag adding new stripes, black and brown, to the 1998 version. Showcasing it during Philly's Pride kick-off, their intentions were a symbol of their city's more outward-facing advocacy for LGBT+ people of color according to www.phillymag.com.
Related: 
Martin Luther King Jr.: A millennial perspective 
MLK statue "well worth the effort"
Celebrating the life and legacy of Dr. Martin Luther King, Jr.
"The black and brown stripes are an inclusionary way to highlight black and brown LGBTQIA members within our community," said one unnamed source involved with the flag-raising.
"With all of the black and brown activism that's worked to address racism in the gayborhood over the past year, I think the new flag is a great step for the city to show the world that they're working toward fully supporting all members of our community."
My students had mixed reactions to this topic. Some students wondered why race needed to be part of the rainbow flag.
The speaker presented additional information that helped the class understand the topic giving examples of mainstream media and how it appears to portray the LGBT+ community.
According to the American Psychological Association, "Media images now popular in television and film promote a monolithic image of the gay community as being overwhelmingly upper-middle class if not simply rich and white."
They listed examples such as Will and Grace, My Best Friend's Wedding, In and Out, Queer as Folks and Queer Eye for the Straight Guy.
I see value in adding the black and brown stripes to the rainbow flag. As a white middle-class senior adult gay man, I believe we must show the world that LGBTQ people come in all shapes, sizes, gender identities, economic statuses and skin colors.
Further, I believe Martin Luther King and the rainbow flag creator Baker would support the idea of adding stripes that supports equality of all skin colors. Philly may have a good idea and time will tell if the ethnic representation will be on the flag as they have suggested, or some other color or colors.
We've come a long way since 1978. I am thankful for people like Baker and King who paved the way for us to have the freedoms that we deserve.
Happy 2018 and please join me to continue fighting for peace, equality, and acceptance for all LGBT+ people.
The Gayly 1/15/2018 @ 9:35 a.m. CST