You're invited to an "Intimate Viewing"
The photographic works of Josh New are featured in a show titled Intimate Viewing at Tulsa's First Thursday art showcase and exhibit at the Dennis R. Neill Equality Center.
The Oklahomans for Equality monthly event begins with a reception on Thursday, March 2 from 6-9 p.m. New's art will be on display throughout the month.
New's works feature a series of portraits honing-in on people with intimate tattoos. So often tattoos carry with them intensely personal memories, feelings or mottos that are chosen to be indelibly marked on bodies. They can be to remember a loved one or special event; they can represent a location, a mantra or an eternal goal.
Often these special images and words are hidden from every day view and only glimpsed in moments of extreme vulnerability. These portraits were designed to challenge the subjects to reveal their most intimate symbols and give the viewer a glimpse of their vulnerability in a moment frozen in time and out of context, for admiration, wonder or awe by complete strangers.
What would normally be reserved for viewing and contemplation by a special few is laid bare for you in this exhibit.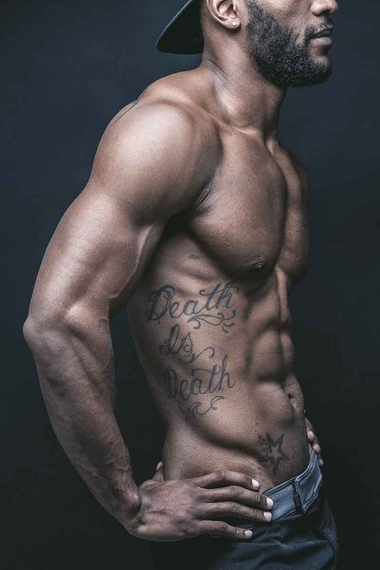 New's portraits will show 10-12 models; men and women of various ages and ethnicities are represented - each with photos in color and black and white.
The Dennis R. Neill Equality Center is located at 621 E. 4th Street in downtown Tulsa. There will be a door prize drawn of the artist's work. The show continues throughout the month.
Oklahomans for Equality (OkEq) seeks equal rights for Lesbian, Gay, Bisexual and Transgender (LGBT) individuals and families through advocacy, education, programs, alliances and the operation of the Dennis R. Neill Equality Center. www.okeq.org.
Copyright 2017 The Gayly – February 26, 2017 @ 2:10 p.m.