You can own "A Fantastic Woman"
On May 22, A Fantastic Woman debuts on Blu-ray and digital. The film stars Daniela Vega, the first transgender Oscar presenter in history.
The acclaimed drama was the Academy Award winner for Best Foreign Language Film and was the first Chilean movie to win an Oscar.
Marina (Vega) is a young transgender waitress and aspiring singer. A story of Marina and Orlando, an older man, who are in love and planning for the future. 
After Orlando suddenly falls ill and dies, Marina is forced to confront his family and society, and to fight again to show them who she is: complex, strong, forthright, fantastic.
In The Making of A Fantastic Woman featurette, available on the Blu-ray release, fans will delve into the passionate storytelling and incredible artistry of the film with this in-depth profile highlighting the extraordinary performances, stunning visuals and flawlessly crafted direction.
Also included is an audio commentary with director Sebastián Lelio which includes an exclusive "Making-of" featurette and Director commentary.
A Fantastic Woman also won Best International Film at the 33rd Independent Spirit Awards, won Best Feature Film at the Berlin International Film Festival and was named one of the Top Five Foreign Language Films by the National Board of Review.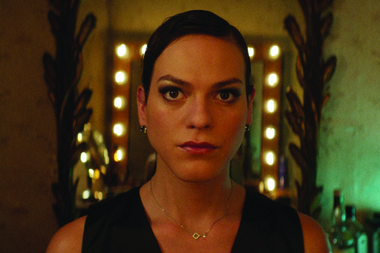 A.O. Scott of The New York Times called A Fantastic Woman, "A fantastic movie" and The Hollywood Reporter's David Rooney called it "A Knockout. Extraordinary."
Directed by Sebastián Lelio (Disobedience, now filming Gloria with Julianne Moore), A Fantastic Woman also stars Francisco Reyes (Neruda) and Luis Gnecco (Neruda, No).
The film was directed by Sebastián Lelio from a screenplay by Sebastián Lelio and Gonzalo Maza. It was produced by Juan de Dios Larraín and Pablo Larraín, with Jeff Skoll, Jonathan King, Rocío Jadue, Mariane Hartard and Ben von Dobeneck serving as executive producers.
A Fantastic Woman is in Spanish with English subtitles, has a run time of approximately 104 minutes and is rated R for language, sexual content, nudity and a disturbing assault.
Produced by Sony Pictures Home Entertainment (SPHE), the producers of Jackie, Spotlight, Toni Erdmann as well as A Fantastic Woman.
For additional information, visit www.sonypictures.com.
The Gayly. May 15, 2018. 12:01 p.m. CST.