Zany "HIR" tries to discover if we can all live here, now
by Rob Howard
Associate Editor
Oklahoma City Theatre Company's production of HIR hits the ground running in the first few moments. "There's so many physical things going on with the crazed hyperactive mother trying to run through the house, seeing the first glimpse of how she keeps the father," says Kory Kight-Pagala, the director of the play. "I just like everything there at the top. It draws you in."
After a dishonorable discharge from the military for drug-related offenses, Isaac returns home from Afghanistan, expecting to confront his abusive father, protect his mother and sister and relax into his old bedroom. His expectations are dashed as he walks into a different kind of chaos.
"He finds out his father had a stroke a year before. Now the mother is in charge and taking revenge. She is trying to start a new civilization with her transgender son at her side," says Kight-Pagala.
As a consequence of his stroke, father Arnold has turned into a helpless, childlike creature. Mother Paige, excited by this overthrow of the patriarchy, refuses to clean, and feeds Arnold a milkshake mixed with estrogen to keep him docile.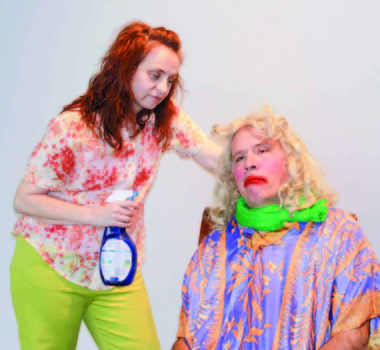 And little sister Max, who has come out as transgender in Isaac's absence, has begun to grow a beard. Paige welcomes Isaac home to the "new regime" with eager, if not open, arms, more than willing to educate him on the brave new post-gender world - even though in the process, she is appropriating the experience of her child Max.
Isaac, suffering from PTSD, "Is trying to make sense of the situation, dealing with the changes and trying to find his own place in this 'new civilization'," says Kight-Pagala.
The play is, "Very much a comedy, although it does have a serious undertone. It's an absurd tragi-comedy," says the director. Playwright Taylor Mac uses absurd realism to drive the humor in the play. As an example, Kight-Pagala says, "If the blinds on the window are broken and the sun shines in and is blinding, instead of fixing the blinds, they all wear sunglasses."
The four member cast includes J. Christine Lanning as Paige, Grant Brittan as Arnold, Dakota Lee Bryant as Isaac and introduces Matthew Zodrow as Max.
"We searched for a transgender actor," says the director. "Matthew, a student at OU, heard about it and showed up." Zodrow is a transgender man. "Truth is important in the play. While it is realistic, it is very much over the top. The craziness makes the funny parts funny."
HIR (a gender pronoun pronounced "here") is a metaphor for both gender and place, and the play will have audiences crying in laughter and sympathy as they attempt to discover if we can all adapt to live here, now.
"HIR is a dysfunctional family dramedy for a new era, a highly intelligent, tenderly heartfelt and deeply, darkly humorous portrayal of a family in crisis, in which domestic abuse, the trauma of war and the acceptance of gender neutrality are illustrated in a nearly absurd, emotionally gripping, intensely real dynamic," says StageAgent.com.
HIR opens April 27 and runs through May 6 at the Oklahoma City Civic Center's CitySpace Theatre. Tickets are $25 and may be purchased by phone at (405) 297-2264, online at www.okcciviccenter.com, or in person at the box office, 201 North Walker Ave., in downtown OKC.
The Gayly – April 26, 2017 @ 2:15 p.m.