GLAAD report shows LGBT+ representation on TV improving
While TV is doing better than it ever has in terms of LGBT+ representation, there's still room for improvement.
That's the finding of GLAAD's Where We Are on TV diversity report which was released Thursday.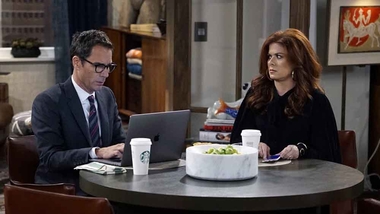 The television industry broke some ground this year with the highest percentage of characters who identified as gay, lesbian, bisexual, transgender, and/or queer since GLAAD started tracking the numbers in an annual report more than 20 years ago. Of the 901 regular characters expected to appear on broadcast scripted prime time programming this season, 58 (6.4 percent) identify as LGBT+. There were also an additional 28 recurring LGBT+ characters.
The organization saw that as significant in the current political climate and GLAAD's president and chief executive Sarah Kate Ellis even went so far as citing President Trump as an obstacle to the progress made by the LGBT+ community.
"As LGBTQ acceptance in government and the broader American culture reverses course, television is a critical home for LGBTQ stories and representation matters more than ever," Ellis said in a statement. "At a time when the Trump administration is trying to render LGBTQ people invisible, representing LGBTQ people in all of our diversity in scripted TV programs is an essential counterbalance that gives LGBTQ people stories to relate to and moves the broader public to support LGBTQ people and families."
Still, the television industry has its work cut out for them when it comes to racial and gender diversity.
The LGBT+ characters featured on the shows are still predominantly white (77 percent of LGBT+ characters on streaming, 62 percent on broadcast, 64 percent on cable) and the majority are men (55 percent of LGBT+ characters on broadcast), and cisgender.
Across broadcast, cable, and streaming originals, there are only 17 transgender characters according to the report.
Other findings include:
• The number of regular LGBT+ characters counted on scripted prime time cable increased to 103, and recurring characters increased to 70, making for 173 characters.
• There were 51 LGBT+ regular characters counted in original scripted series on the streaming services Amazon, Hulu, and Netflix as well as 19 recurring characters. This is an increase of five total characters from last year.
• Bisexual+ characters make up 28 percent of the LGBT+ characters tracked across all platforms (broadcast, cable, streaming originals), a slight decrease from last year. These characters still heavily skew toward women (75 women to 18 men).
For the first time in the history of the report, GLAAD was able to count non-binary characters and asexual characters on shows.
"While these identities have been depicted on screen before, those characters were often relegated to one-off episodes, which did not allow for nuanced exploration," GLAAD said in its press release. "Broadcast is the only platform tracked without a canon asexual character; cable and streaming each count one asexual character."
GLAAD, which is the world's largest LGBT+ media advocacy organization, has continued to sound the alarm for the need for more representation on television.
According to their Accelerating Acceptance survey, 20 percent of Americans aged 18 to 34 (a key demographic for networks) identify as LGBT+.
"Numbers are only a small part of the story when it comes to LGBTQ representation on TV and simply being present onscreen is not enough," said Megan Townsend, director of entertainment research and analysis at GLAAD. "While we're pleased to see numbers on the rise, consideration of how LGBTQ characters are woven into storylines and whose stories are making it to screen is crucial for judging progress of the industry. And there is still work to be done."
By Lisa Respers France, CNN. The-CNN-Wire ™ & © 2017 Cable News Network, Inc., a Time Warner Company. All rights reserved.
The Gayly – November 9, 2017 @ 4 p.m. CST.