Great Plains 4D Memorial Shootout: New twist on an old classic in Oklahoma
by Hayden Smith
Staff Writer
Rodeo fans from all over the state and the country have looked forward to the annual Great Plains Rodeo since its debut in 1986. This year, the Oklahoma Gay Rodeo Association will be hosting a new event with the same appeal.
The annual rodeo has been renamed the Great Plains 4D Memorial Shootout. 4D refers to the rodeo being rated in the fourth division.
The Great Plains 4D Memorial Shootout will be held over Memorial Day weekend, May 26 through May 28, with the majority of the events being held on Saturday, May 27.
The Oklahoma Gay Rodeo Association, or OGRA, holds an annual rodeo sanctioned by the International Gay Rodeo Association as a charitable cause and partner to local non-profit organizations as well as to the greater LGBTQ community.
Past Great Plains Rodeo partners have included Other Options (see below), Expressions Community Center, host to LGBTQ support groups, therapy and HIV testing, Be The Change, a homeless outreach and support organization and OKC Pride, the board responsible for annual Pride festivities as well as other LGBTQ events.
The Great Plains Rodeo has traditionally been the OGRA's biggest fundraising event of the year, taking place every Memorial Day weekend at the State Fairgrounds. The volunteers now have an exciting new rodeo with the same familiar time and location that longtime fans are sure to love.
Friday, May 26 is move-in day for the State Fairgrounds, with practice time and exhibition performances being held from 7 p.m. to 9 p.m. in barns six and seven.
Saturday constitutes the main event, kicking off at 9 a.m. with barrel racing starting at 1 p.m. with plenty of surprises and fun in store for all who attend.
The evening festivities will shift from the fairgrounds to the Copa Nightclub, located in the Habana Inn, for a Texas Tea Party.
The official Recovery Party and cookout will take place on the following Sunday at Partners Too.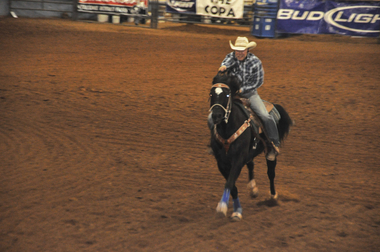 Practice and exhibition performances begin Friday, May 26. Photo by Robin Dorner.
The days leading up to the fun-filled weekend also have events benefiting the OGRA, including the Great Plains Rodeo Idol Finals competition at the Finishline on Wednesday, May 24, and the Spotlight OKC Benefit Show hosted by the Phoenix on Thursday, May 25.
Don't miss out on this exciting new rodeo this Memorial Day weekend. Proceeds for the Great Plains 4D Memorial Shootout will go to the OGRA's longtime fundraising partner, Other Options, Inc., a local food pantry and advocate group for Oklahomans living with HIV or AIDS.
For more information and early registration, please visit greatplainsrodeo.com
_
Copyright 2017 The Gayly - 5/6/2017 @ 2:23 p.m. CDT