Thousands in Rio demand answers about murder of Marielle Franco
RIO DE JANEIRO (AP) — Thousands of Brazilians on Tuesday demanded answers about the assassination of Rio de Janeiro councilwoman Marielle Franco, an attack that has shaken the nation and remains a mystery a week later.
Artists, activists and Franco's sister spoke during an emotional evening protest that included calls for an independent investigation into the death of the activist who frequently criticized police brutality, particularly against blacks in poor communities.
"It's black blood in the street. Another warrior who has fallen," said protester Carla Moura, adding that "repression will not silence our voices."
Franco and a driver were shot and killed last week after she had participated in an event on empowering black women. Her death has touched a nerve with many in a nation where more than 50 percent identify as black or mixed race, but where most politicians are white men.
The long-time activist was elected to the city council in 2016 and had been a vocal critic of the military's takeover of security in Rio the last month amid a spike in violence.
For many, she was a symbol of change because she herself emerged from Mare, a warren of slums that is one of Rio's roughest areas. Latin America's largest nation is one of the most unequal in the world, making Franco's rise in politics all the more unusual.
A large banner at the protest outlined several aspects of Franco that drew many Brazilians to her.
"Marielle: Woman, mother, revolutionary, feminist, black, lesbian, fight, always," it read.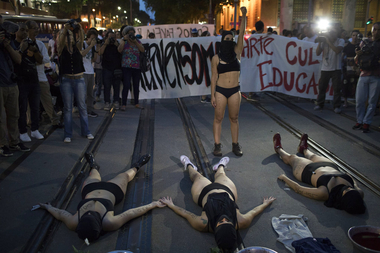 No arrests have been made and it's still unclear what motivated the attack.
Earlier Tuesday, military spokesman Col. Roberto Itamar told reporters he was "confident that in the short term we will have news and the crime will be solved." He did not elaborate.
Anielle Silva, Franco's sister, told protesters she would not rest until the case was solved.
"I'm seeking justice with blood in my eyes," she said.
Silva also railed against what she called "fake news" about the fallen councilwoman. In recent days, several theories have been floated online, including that Franco had ties with drug traffickers who control many areas in Rio.
"Marielle was never a gangster. We were never financed by drug traffickers and she never married a gangster," said Silva. "They are not going to destroy what my sister built."
Copyright Associated Press, all rights reserved.
The Gayly. March 21, 2018. 1:19 p.m. CST.