"The Play That Goes Wrong" prepares to wreak havoc on Tulsa
Tulsa's Celebrity Attractions is thrilled to announce Broadway's funniest and longest-running play The Play That Goes Wrong will make its Tulsa debut at the Tulsa Performing Arts Center. These performances will be the first time The Play That Goes Wrong has been performed in Tulsa.  
Co-written by Mischief Theatre company members Henry Lewis, Jonathan Sayer and Henry Shields, The Play That Goes Wrong is a riotous comedy about the theatre. The play introduces The 'Cornley University Drama Society' who are attempting to put on a 1920s' murder mystery, but as the title suggests, everything that can go wrong…does, as the accident-prone thespians battle on against all the odds to get to their final curtain call.
Entertainment Weekly calls The Play That Goes Wrong, "Hilarious! Non-stop pandemonium." The Huffington Post calls it, "The funniest play Broadway has ever seen!" And the New York Post says it's, "Broadway's funniest and longest-running play! Nothing is as fall down funny."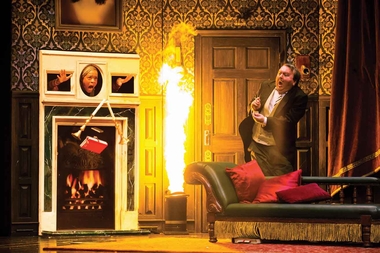 The Broadway production of The Play That Goes Wrong opened at the Lyceum Theatre on April 2, 2017. The show, which was slated to close on Broadway in August of this year, will extend its run due to popular demand through January 6, 2019.
By then, the Broadway production will have played 27 previews and 745 performances, making it the 2nd longest running show in the history of the Lyceum Theatre.
The Play That Goes Wrong received a Tony Award for Best Set Design, Broadway.com's Audience Choice Award for Best Play, and the Theater Fans Choice Award for Best Play and many other awards and accolades.
It is a remarkable rags-to-riches story for a play which started its life at a London fringe venue with only four paying members of the public at the first performance and has gone on to play to an audience of over two-million people around the world.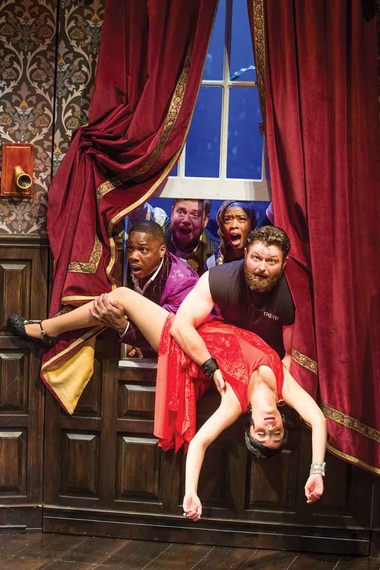 Mischief Theatre, the Olivier Award-winning theatre company, led by Artistic Director Henry Lewis and Company Director Jonathan Sayer, was founded in 2008 by a group of graduates of The London Academy of Music and Dramatic Art (LAMDA) and began as an improvised comedy group. Mischief Theatre performs across the UK and internationally with improvised and original scripted work.
The Play That Goes Wrong tour is directed by Matt DiCarlo with original Broadway direction by Mark Bell, featuring set design by Nigel Hook, lighting design by Ric Mountjoy, sound design by Andy Johnson and costume design by Roberto Surace.
Presented by Celebrity Attractions, The Play That Goes Wrong comes to the Tulsa Performing Arts Center for eight performances only February 26 – March 3. The performance schedule is Tuesday, Wednesday and Thursday at 7:30 p.m., Friday at 8 p.m., Saturday at 2 p.m. and 8 p.m., and Sunday at 1 p.m. and 6:30 p.m.
Tickets are on sale now and may be purchased via phone (918) 596-7111 or (800) 364-7111, in person at the Tulsa PAC Box Office, or online at CelebrityAttractions.com. Groups of 10, call (918) 796-0220.
The Play That Goes Wrong is part of the Celebrity Attractions' 35th Anniversary 2018-2019 Broadway Season which also includes an irresistible slice of musical theatre heaven with Waitress, the joyous classic to raise a cup to with Fiddler On The Roof, and the season concludes with Hamilton, making its Tulsa debut. Special add-on productions of The Book Of Mormon and The Lightning Thief: The Percy Jackson Musical are both currently on sale.
For more information, please visit www.CelebrityAttractions.com and www.BroadwayGoesWrong.com.
The Tulsa PAC Ticket Office and Celebrity Attractions are the only official retail ticket outlets and the only way to guarantee you are paying face value for legitimate tickets. A broker or third-party tickets are not guaranteed and cannot be replaced.
Copyright The Gayly – January 25, 2019 @ 12:45 p.m. CST.