42nd Street sings and dances its way into KCMO
The national tour production of Broadway's smash hit, 42nd Street, comes to KCMO's Kauffman Center May 2 through 7.
The quintessential backstage musical comedy classic, 42nd Street is the song and dance fable of Broadway with an American Dream story and includes some of the greatest songs ever written, such as We're In The Money, Lullaby of Broadway, Shuffle Off To Buffalo, Dames, I Only Have Eyes For You and of course 42nd Street.
Based on a novel by Bradford Ropes and Busby Berkeley's 1933 movie, 42nd Street tells the story of a starry-eyed young dancer named Peggy Sawyer who leaves her Allentown home and comes to New York to audition for the new Broadway musical Pretty Lady.
When the leading lady breaks her ankle, Peggy takes over and becomes a star. With a book by Michael Stewart and Mark Bramble, music by Harry Warren and lyrics by Al Dubin, this sparkling new production will be directed by co-author Mark Bramble and choreographed by Randy Skinner, the team who staged the 2001 Tony Award-winning Best Musical Revival.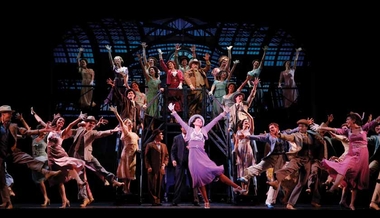 The national tour production stars Clara Cox as the fresh-faced Peggy Sawyer, with Matthew Taylor as director Julian Marsh and Kara Gibson Slocum as the long-time leading lady, Dorothy Brock.
Reviews for the tour tout a dazzling array of singing and dancing, featuring many songs from 1930's films including 42nd Street, Dames, the Gold Diggersseries of movies and Roman Scandals.
"42nd Street is so chock full of entertainment that it barely fits on the stage," says the Salt Lake Tribune. "If you're a fan of old movie musicals - if you're looking for just good old-fashioned singing and dancing - you can't do better than 42nd Street."
"42nd Street is the greatest homage to Broadway musicals ever written, and this production is a dazzling and thoroughly entertaining valentine to the world of musical theater." - Orange County Register.
Performances are May 2 – 7 at Kansas City's Muriel Kauffman Theatre. Tickets are $45 to $85 and may be purchased online at www.kauffmancenter.org, by phone at (816) 994-7200 or in person at Kauffman Center box office at 1601 Broadway Blvd., Kansas City, Mo.
Copyright 2017 The Gayly – April 14, 2017 @ 12:45 p.m.