by Rob Howard
Associate Editor
"Fun Home may be a deeply personal story about one woman's search for truths, but as is the case with our best stories, it shares universal truths - about family, legacy and self-discovery," said the Pittsburgh Post-Gazettein its review of the musical.
The musical comes to Kansas City's Kauffman Center May 30 through June 4. The Tony award winner for Best Musical in 2015, Fun Home is now on national tour.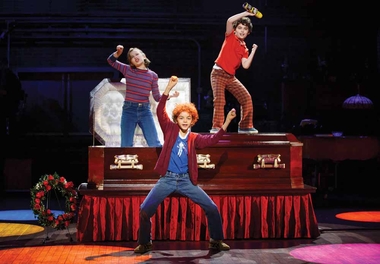 Fun Homeis based on lesbian cartoonist Alison Bechdel's graphic novel about growing up in a Pennsylvania funeral home with an agonized, closeted gay dad. The Chicago Tribune wrote, "[It's} the all-American, coming-of-age journey of a girl (seen at different ages) and who, in adulthood, asked herself the question why she and the father she loved ended up taking such different paths. It is a question you might well have asked about your own parents."
Every once in a while a Broadway musical comes along that surprises, moves and excites audiences in ways only a truly landmark musical can. The "groundbreaking" "life-affirming" and "exquisite" new musical was the event of the Broadway season, receiving raves from critics and audiences alike and making history along the way.
Fun Home features music by Jeanine Tesori, book and lyrics by Lisa Kron and direction by Sam Gold, whose work on this production earned them the Tony Awards for Best Score, Best Book and Best Direction. Fun Home introduces us to Alison at three different ages, revealing memories of her uniquely dysfunctional family - her mother, brothers and volatile, brilliant, enigmatic father - that connect with her in surprising new ways.
The Associated Press, in a story about the national tour, wrote, "'The cultural moment right now in this country really has me excited about taking this show out on a tour,' said Kate Shindle, who will play the adult Alison. 'During auditions you mostly focus on the material on the page, but I just couldn't turn off the activist part of my brain.'"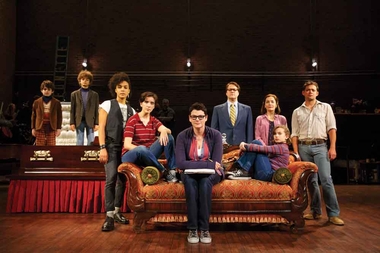 "The cast and creators are quick to point out that the story is paramount and Fun Home is not overtly political, even if, by its very nature, a show about growing up gay - including a song about lesbian sexual desire, Ring of Keys - is a charged topic for some.
"'You don't need to be involved in its politics to be moved by the show and that's very important. It's a very universal show and it captures something bigger than its politics. That's what makes it work. I'm not interested in polemical theater,' said Gold. 'I'm interested in moving people.'"
Tickets for Fun Home are $46.50 to $91.50 and are available online at BroadwayInKC.com, KauffmanCenter.org, at Kauffman Center box office or by calling (816) 994-7222.
Copyright 2017 The Gayly – May 26, 2017 @ 11:45 a.m.