All 30 MLB teams are supporting #SpiritDay
Major League Baseball has recruited all 30 of its teams to join the cause this year, turning their social media presences purple for the day.
Several teams have posted messages of support for LGBT+ youth, taking a stand against bullying. 
"We encourage supportive and accepting environments among our young fans, in the workplace, in our clubhouses, on the field and in the stands," said Billy Bean, vice-president, Major League Baseball. "Spirit Day is a wonderful opportunity for MLB to share our values with our stakeholders, fans and anyone who loves baseball." 
To read more on #SpiritDay:
Youth matter: Get involved this #SpiritDay
Purple people unite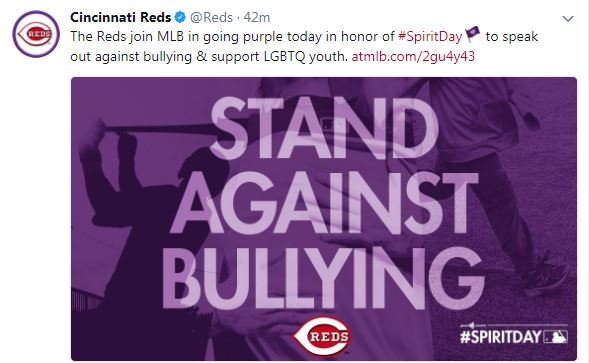 For those who don't know, Spirit Day is an annual campaign designed to show solidarity against bullying by wearing purple. It was started in 2010 by Brittany McMillan, a Canadian teenager who wanted to say something about a sudden surge in publicly reported bullying-related suicides. GLAAD has been pushing the campaign for several years.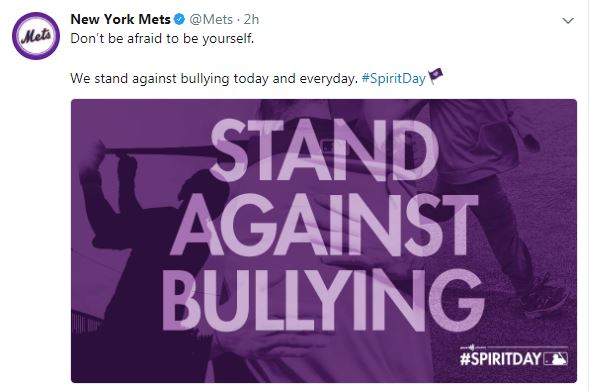 The NBA and WNBA are listed as official partners on Spirit Day, while the NFL is listed as a supporting partner. MLS and the NHL are both absent from GLAAD's list of partners.
See original article on OutSports. 
Copyright The Gayly – October 19, 2017 @ 11:00 a.m. CST.