Oklahoma's OACF hosts HIV Advocacy Day
by Robin Dorner
Editor in Chief
Paige Rawl was born HIV Positive. At the age of fourteen, Paige was granted special permission to become the youngest person ever to be certified by the American Red Cross as an HIV/AIDS Educator.
She is speaking today in Oklahoma at the HIV Advocacy Day breakfast. The event is hosted by the Oklahoma AIDS Care Fund (OACF). From here, guests will go to the state capitol to advocate directly to their legislators about issues regarding people living with HIV.
In middle school, Rawl was bullied severely because of her HIV status. Her classmates called her cruel nicknames, such as PAIDS. Her soccer coach even made a joke about how her HIV status could help the team. School administrators let her down by not protecting her.
After leaving middle school, she decided to take a stand and started to speak out sharing her story by becoming an advocate, educator and author.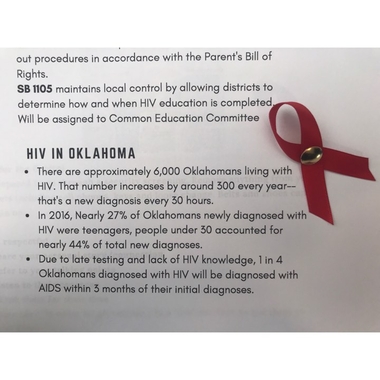 From here, OACF invites you to the Oklahoma State Capitol to meet with your legislators to advocate for the rights of people living with HIV & AIDS. Awareness Day will bring together consumers, advocates and member organizations from around the state for a common cause and serves as an opportunity to develop relationships with lawmakers.
Advocacy Day is an opportunity to meet with your legislators to discuss important HIV education and prevention of negative legislation aimed at people living with HIV or AIDS in the state of Oklahoma.
The Oklahoma AIDS Care Fund and the Oklahoma HIV and AIDS Advocacy Coalition use The National HIV/AIDS Strategy as it relates to Oklahoma. This Strategy is a five-year plan which details principles, priorities, and actions to guide our collective national response to the HIV epidemic.
The Strategy has four main goals:
Reduce New Infections.
Increase Access to Care and Improve Health Outcomes for People Living with HIV
Reduce HIV-Related Health Disparities and Health Inequities
Achieve a More Coordinated National Response to the HIV Epidemic
HIV Advocacy Day is a free event. If you are unable to attend, please call your Senator or Representative, contact information can be found below. For more information, visit www.okaidscarefund.com/advocacy.
SB 1105, a bill proposed to direct school districts to provide certain age-appropriate instruction about HIV, AIDS and related issues has passed in the Oklahoma Senate. It now heads to the House. Please call your House Representative and ask them to vote yes on SB 1105.
The Gayly. March 20, 2018. 10:55 a.m. CST.
| | | | |
| --- | --- | --- | --- |
| Member | District | Party | Phone |
|   |   |   |   |
| | 33 | R | (405) 557-7304 |
| | 60 | R | (405) 557-7311 |
| | 92 | D | (405) 557-7404 |
| | 2 | R | (405) 557-7315 |
| | 78 | D | (405) 557-7334 |
| | 51 | R | (405) 557-7405 |
| | 70 | R | (405) 557-7359 |
| | 40 | R | (405) 557-7317 |
| | 82 | R | (405) 557-7357 |
| | 15 | D | (405) 557-7375 |
| | 35 | R | (405) 557-7344 |
| | 20 | R | (405) 557-7308 |
| | 27 | R | (405) 557-7349 |
| | 18 | D | (405) 557-7376 |
| | 63 | R | (405) 557-7307 |
| | 74 | R | (405) 557-7377 |
| | 61 | I | (405) 557-7384 |
| | 93 | D | (405) 557-7371 |
| | 42 | R | (405) 557-7365 |
| | 10 | R | (405) 557-7402 |
| | 88 | D | (405) 557-7396 |
| | 90 | R | (405) 557-7354 |
| | 41 | R | (405) 557-7321 |
| | 14 | R | (405) 557-7310 |
| | 16 | R | (405) 557-7373 |
| | 95 | R | (405) 557-7314 |
| | 76 | R | (405) 557-7347 |
| | 86 | D | (405) 557-7394 |
| | 13 | R | (405) 557-7302 |
| | 75 | D | (405) 557-7356 |
| | 8 | R | (405) 557-7364 |
| | 73 | D | (405) 557-7406 |
| | 45 | D | (405) 557-7386 |
| | 100 | R | (405) 557-7403 |
| | 49 | R | (405) 557-7383 |
| | 71 | R | (405) 557-7361 |
| | 29 | R | (405) 557-7353 |
| | 6 | D | (405) 557-7319 |
| | 19 | R | (405) 557-7382 |
| | 94 | D | (405) 557-7370 |
| | 43 | R | (405) 557-7352 |
| | 91 | R | (405) 557-7337 |
| | 26 | R | (405) 557-7345 |
| | 24 | D | (405) 557-7306 |
| | 30 | R | (405) 557-7414 |
| | 9 | R | (405) 557-7380 |
| | 7 | D | (405) 557-7399 |
| | 97 | D | (405) 557-7367 |
| | 39 | R | (405) 557-7342 |
| | 53 | R | (405) 557-7346 |
| | 22 | R | (405) 557-7412 |
| | 83 | R | (405) 557-7409 |
| | 12 | R | (405) 557-7388 |
| | 67 | R | (405) 557-7341 |
| | 50 | R | (405) 557-7327 |
| | 4 | D | (405) 557-7408 |
| | 62 | R | (405) 557-7374 |
| | 96 | R | (405) 557-7400 |
| | 68 | R | (405) 557-7340 |
| | 85 | D | (405) 557-7392 |
| | 31 | R | (405) 557-7350 |
| | 58 | R | (405) 557-7339 |
| | 72 | D | (405) 557-7391 |
| | 66 | R | (405) 557-7390 |
| | 23 | R | (405) 557-7379 |
| | 52 | R | (405) 557-7369 |
| | 47 | R | (405) 557-7333 |
| | 81 | R | (405) 557-7360 |
| | 48 | R | (405) 557-7326 |
| | 65 | R | (405) 557-7305 |
| | 56 | D | (405) 557-7401 |
| | 38 | R | (405) 557-7332 |
| | 77 | D | (405) 557-7410 |
| | 17 | D | (405) 557-7381 |
| | 80 | R | (405) 557-7338 |
| | 21 | R | (405) 557-7366 |
| | 36 | R | (405) 557-7322 |
| | 98 | R | (405) 557-7362 |
| | 46 | D | (405) 557-7329 |
| | 55 | R | (405) 557-7312 |
| | 59 | R | (405) 557-7407 |
| | 11 | R | (405) 557-7358 |
| | 89 | D | (405) 557-7397 |
| | 69 | R | (405) 557-7331 |
| | 1 | D | (405) 557-7363 |
| | 28 | R | (405) 557-7372 |
| | 101 | R | (405) 557-7395 |
| | 25 | R | (405) 557-7336 |
| | 37 | R | (405) 557-7355 |
| | 44 | D | (405) 557-7323 |
| | 87 | D | (405) 557-7335 |
| | 32 | R | (405) 557-7368 |
| | 79 | R | (405) 557-7330 |
| | 5 | R | (405) 557-7415 |
| | 54 | R | (405) 557-7343 |
| | 3 | R | (405) 557-7413 |
| | 84 | R | (405) 557-7348 |
| | 34 | D | (405) 557-7411 |
| | 64 | R | (405) 557-7398 |
| | 57 | R | (405) 557-7325 |
| | 99 | D | (405) 557-7393 |