Romantic musical version of "The Bodyguard" to thrill Tulsa
by Rob Howard
Associate Editor
"This is one of those roles that is the opportunity of a lifetime," Deborah Cox told The Gayly in an exclusive interview. "I get to act and dance. [I sing] probably the most iconic songs by the greatest voice of our generation."
Cox stars as Rachel Marron in The Bodyguard The Musical coming to Tulsa September 26.
The musical is based on Lawrence Kasdan's 1992 Oscar-nominated Warner Bros. film; it was adapted by Academy Award-winner (Birdman) Alexander Dinelaris and is now on its first U.S. national tour.
Former Secret Service agent turned bodyguard, Frank Farmer (Judson Mills), is hired to protect superstar Rachel Marron from an unknown stalker. Each expects to be in charge; what they don't expect is to fall in love.
A romantic thriller, The Bodyguard The Musical features a host of irresistible classics. The line-up is packed with iconic songs from the original soundtrack. "I get the opportunity to sing most of the songs in their entirety," said Cox.
Included in The Bodyguard are hits like So Emotional, One Moment in Time, Saving All My Love, Run to You, I Have Nothing, All the Man That I Need, I Wanna Dance With Somebody and one of the biggest selling songs of all time – I Will Always Love You, written by Dolly Parton and made a record setting Number 1 on the charts by Whitney Houston.
Cox said her favorite songs in the production are All the Man That I Need and One Moment In Time. She praises the production: "I love that there is a lot of storytelling with Rachel's character. She is a really complex person. She's a woman in control but has a sweet maternal side. You really understand why she is so guarded and why she's so protective of her son."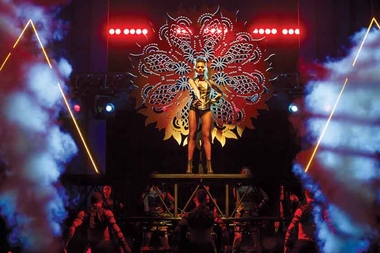 There are 20 numbers in the musical. Cox sings throughout the production, eight performances a week. "It can be exhausting, it's quite a marathon. I have to take it moment to moment in the show so it is delivered with authenticity. It helps me stay connected. It takes an enormous amount of focus for me," she said.
Cox has been recognized for her longstanding commitment to various social issues in the LGBT+ community, receiving many awards. Most recently she was honored by The Harvey Milk Foundation at the 2015 Diversity Honors for all of her efforts in the fight against HIV/AIDS.
She joined the fight for human rights and equality early. "One of my dear friends was having trouble coming out to their family," she related. "Everybody should have the right to be who they are. I fight bullying as well. I just got in the trenches with them. When you've been in it for the long haul it's great to see the gains for equality."
Cox said she loved The Bodyguard movie. "I thought it was an interesting take to turn the film into a musical. The soundtrack was part of my life growing up. It's a challenging role, it's about bringing this music to a whole new generation that may not be that familiar with the movie," she concluded.
Direction is by Thea Sharrock, choreography is by Karen Bruce, orchestrations by Chris Egan. Musical director Matthew Smedal conducts the live orchestra. 
Celebrity Attractions brings The Bodyguard The Musical to the Tulsa Performing Arts Center for eight performances September 26 – October 1. Tickets are available online at www.celebrityattractions.com or www.tulsapac.com, by calling (918) 596-7111, or in person at the Tulsa PAC box office, 101 E. Third St., Tulsa.

Copyright The Gayly – September 13, 2017 @ 7:30 a.m. CDT.