Twitter criticized for bi-erasure
Twitter is being criticized for failing to show any photos under the bisexual hashtag. 
Some are calling it bi-erasure, as photo results for "lesbian" and "gay" still exist. 
Users are pointing out that when you search #bisexual, a message appears on the photos tab stating: "The term you entered did not bring up any results."
Twitter has yet to comment on the reason why the photos don't show up.
Kate Harrad, of campaign group The Bisexual Index, says that bisexual people have "historically been hypersexualised and associated with porn and promiscuity."
"Every bi-activist knows the problems of trying to search for bi-content on the web and some public wifi systems block it altogether, even when it's nothing to do with sex, because bisexual is seen as a dodgy word in itself. 
"This is why Twitter needs to be very sensitive to any filtering that reduces access to bi content, and very aware of the problem of bisexual erasure."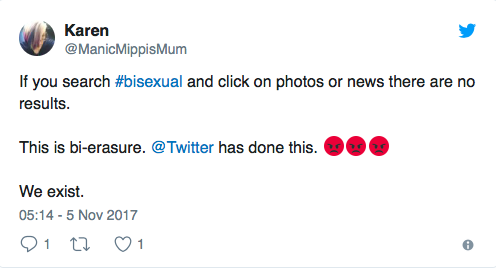 It's not known whether the omission is connected to recent changes made to Twitter's rules around potentially sensitive material. 
An update on November 3 listed new ways it was dealing with issues such as spam, graphic violence, adult content and abusive behaviour. 
Currently, no photos show up regardless of whether the "hide sensitive content" button is checked or unchecked.
Copyright The Gayly – November 5, 2017 @ 11:11 a.m.