Will Cher visit "Will & Grace" again?
During its first incarnation as a wildly popular LGBT+ themed comedy show, Will & Grace had an early superstar guest – Cher! She appeared twice on the show, once in 2000, which found Jack mistaking her for a Cher drag impersonator, and again in the season four finale, in which she appeared to Jack in a dream as God. That segment included a musical number by the superstar and some very hunky, and nearly nude angels.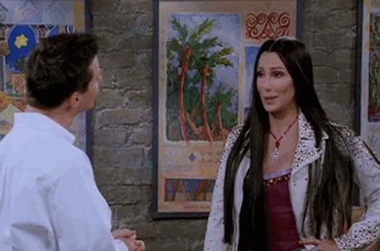 Already, in its current revival, there have been some celebrity appearances. Leslie Jordan returned to the show for one episode, resuming his torture of Karen – first revealing, and then denying that he is gay.
So, people are wondering – will Cher return as well?
"In the latest installment of the Will & Grace After Party  on YouTube, series co-creators Max Mutchnick and David Kohan took questions from fans on Twitter," according to NewNowNext.com. "One viewer wanted to know who they thought was the most memorable guest star from the original run.
"'The first huge one, Cher,' Kohan answered.
"'She showed up, she yelled at me, she rewrote the script,' Mutchnick recalled."
 "Later in episode another fan asks who to expect in the upcoming holiday episode," reported LGBTQNation.com.
"'We actually just saw the run through of that episode. We, who are inclined to be very critical of the work, thoroughly enjoyed it,' Kohan told the fan.  'It really is a fun one.'
"'We just talked about Cher. That's all I'm going to say,'" he concluded.
So, who knows?
NewNowNext commented, "What do you think that means? Will the Believe belter be the special guest star for the holiday extravaganza? Or will Jack just be throwing a Cher-themed Christmas party as he impatiently awaits her cameo in Mamma Mia 2?
"Guess we will have to tune into the Will & Grace holiday episode on Tuesday, December 5 to find out."
Copyright The Gayly – November 6, 2017 @ 1:05 p.m. CST.