"The Handmaid's Tale" closer than we think?
by Bruce Hartley
Life Issues Columnist
What does the phrase "separation of church and state" mean in 2018? I have watched our country evolve over my 55 years of life, and I continue to wonder what America will look like in years to come.
The recent announcement by Attorney General Jeff Sessions about the creation of a "Religious Liberty Task Force" concerns me as I know that many conservative people seem to use the Bible as their platform for discrimination of people in the LGBTQ+ community.
Sessions cited a 2017 Department of Justice memo that ordered federal agencies to take the broadest possible interpretation of "religious liberty" when enforcing federal laws. Sessions has said that the task force is needed to combat secularism that he believes is challenging religious freedom.
From my perspective, this is a slippery slope for America. I saw an eye-opening social media post online that had Sessions standing in front of a photo of the popular Hulu program titled The Handmaids Tale. The Gayly made their own image here.
The program is set in the future after our world has encountered war and famine. A group of right-wing conservatives took over part of America and used the Bible as their platform for setting up a country where straight men are in control, and everyone else is beneath them. The show is frightening to watch as LGBTQ+ people are either persecuted or turned into slaves of some type.
Does this new task force equal the start of a new kind of Christian nationalism that weaves patriotism and rightwing Christianity together? We all know that LGBTQ+ people continue to be discriminated against in many settings from housing, family planning and adoption to even being served in a restaurant or bakery.
I am a gay Christian, and I am very concerned by this task force. Rightwing conservatives do not understand how I can profess to be a gay Christian. I have studied the Bible, and I believe my faith is as strong and legitimate as anyone else. (Can I get an "Amen?")
As we see the potential addition of President Trump's nominee Brett Kavanaugh to the Supreme Court, I am concerned the definition of religious liberty will continue to erode LGBTQ+ rights and freedoms. This information makes me wonder what has happened to the separation of church and state further.
I understand some groups are watching this topic closely as it relates to LGBTQ people and others. The American Civil Liberties Union has condemned the task force.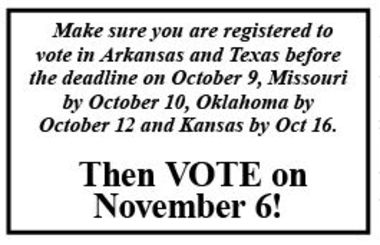 As we move into November elections; please learn about the candidates and what they stand for and remember to make sure you are registered to vote in Arkansas and Texas before the deadline on October 9, Missouri by October 10, Oklahoma by October 12 and Kansas by Oct 16.
Then, vote on November 6 in the midterm election. Offer to help others who need rides to the polls. We need a strong turnout of LGBTQ+ folks. Voting is the only way we can make sure our voices are heard and help stop discrimination in our communities.
We must stand together, or we will continue to see our state and federal government use groups like this task force to discriminate.
Check out The Handmaid's Tale on Hulu. The show is frightening but is very well done and won numerous awards for season one. Season two is out now.
Let it fuel your passion for standing strong, voting and helping our great nation never turn into The Handmaid's Tale.
Copyright The Gayly – September 5, 2018 @ 11 a.m. CDT.