"The reigning Miss Gay Oklahoma is a hero"
by Victoria Backle
Staff Writer
It was a typical day at work for Ryan Tigner, a yoga instructor at Hidden Dragon in Oklahoma City, until one of his students collapsed suddenly to the floor.
"It was a normal day," Tigner recalled, "Until things went unnatural very quickly."
The student's name was Nick Zaizar; he had been attending Ryan's classes for a few months and the two became friends after Ryan won the Miss Gay Oklahoma pageant this past July.
As Miss Gay Oklahoma, Tigner is Ry'lee Hilton.
Zaizar was diagnosed with hypertrophic cardiomyopathy in 1986 and was told the side effects of his condition could be a heart arrhythmia, which is exactly what he experienced in Tigner's class.
"I don't remember being on my mat that day," said Zaizar, "But I know that my heart stopped, I dropped, and I was dead. If I were home or anywhere else, I wouldn't be having this conversation."
Perhaps it was luck, or maybe fate, that he collapsed in Tigner's class. Tigner had been certified for CPR thanks to his years of work in the public-school system. As soon as Zaizar hit the floor, his instructor ran to the phone and dialed 911. Tigner performed CPR on Zaizar before the ambulance had arrived on the scene.
"It was a very startling thing in the middle of the class. You're in this kind of meditative state and it jarred everybody," Tigner added.
The instructor's fast response and level-headed decisions saved the life of his student, and although Tigner may not be ready to call himself a hero, Zaizar didn't hesitate to call him one.
"Had I not been in that space, or the class I was taking with Ryan, who knows where I'd be," Zaizar asserted.
The experience has brought the two, and their families, close together. Zaizar's sister, Theresa, stated her undying gratitude for Tigner's actions.
"Ryan is now family for life. We are forever grateful," she noted. "The reigning Miss Gay Oklahoma is a hero."
Tigner and Zaizar both agree that the experience forever bonded their families together. Zaizar is recovering quickly and is excited to get back to yoga at his beloved studio and his instructor is looking forward to having him back.
Tigner concluded, "I think that the situation has brought awareness to CPR certification and the importance of it, but it has also brought awareness to my community."
The unexpected happened in an Oklahoma City yoga studio, but out of it came life-long friendship and another day for the very grateful Nick Zaizar.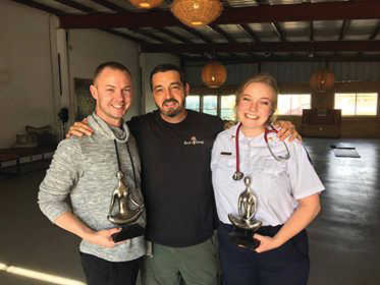 Pictured here is Ryan Tigner, Nick Zaizar and Sarah Callaway, EMSA techs.
_
Copyright 2016 The Gayly - 12/6/2016 @ 7:32 A.M.