"Ignite Your Flame" at Oklahoma's newest Pride festival
Payne County Pride Festival brings the Pride tradition to Stillwater and beyond
Stillwater will be joining the ranks of nine other cities in hosting its first-ever Pride festival. While Oklahoma State University has held a Pride Week for years, the city has yet to throw a Pride of its own.
The Payne County Pride Association is a new non-profit established in July 2018 with the intention of bringing families and communities together through the tradition of Pride. The committee chose this name intentionally to ensure that LGBTQ+ in the entire county feel included.
Not only that, but the Payne County Pride Association hopes to bring participants together from across Northern Oklahoma from Kingfisher to Pawhauska, Ponca City to Guthrie as well as from the OKC, Tulsa and Wichita metro areas.
Payne County Pride will be held April 6, making it one of the first community-based Pride celebrations worldwide for 2019.
Inaugural Grand Marshal will be Sara Cunningham who created a worldwide movement with her organization Free Mom Hugs, which offers LGBTQ+ kids hugs at Pride and other LGBTQ+ events. Prior to forming the organization, Cunningham wrote the book How We Sleep At Night: A Mother's Memoir. The book addresses the issue of loving your gay child and still being able to love and worship God.
Cunningham "went viral" with a social media post she made offering to be a stand-in mom for any LGBTQ+ couple who's mom would not attend their wedding simply because of who they loved. She is also an ordained minister and has performed several same-sex weddings.
The festival will consist of three components: parade, picnic and party. The parade will start at 10 a.m., starting at the intersection of 7th Street and Main Street, progressing down Main Street and then turning right on 9th Street, leading to Block 34 of Downtown Stillwater, where the picnic will be.
The picnic portion will be a block party with food trucks, live music, performances, and vendor booths. The Payne County Pride Association will also be hosting an educational booth for anyone with questions about queer issues. Both the parade and the picnic will be family-friendly.
In the evening, the event will progress to the party at Stonewall Tavern. At 8 p.m., there will be a drag show with local drag performers. At 9:30, local band Funk n Beers takes the stage and will provide music until midnight. Be sure to book your hotel room early so you can party the night away without worrying about driving home afterward.
Concurrently with the party at the tavern, there will be an 18 and under after-party for junior and senior high school students.
Payne County Pride is aiming high with its inaugural event, hoping to reach those in the LGBTQ+ community, and outside of it, throughout Northern Oklahoma. To celebrate the fact that this is the first celebration, "Ignite Your Flame" was the chosen theme as they begin to light the torch of Pride in Payne County and beyond.
Learn more and stay abreast of updates by going to the official website, www.paynecountypride.org, as well as following the festival on social media @paynecopride.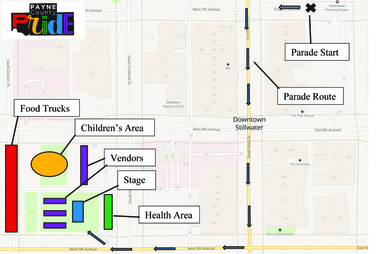 The Gayly. 3/5/2019 @ 8:01 a.m. CST.