10-year-old 'drag kid' has created the first drag club for children
A 10-year-old "drag kid" has set up the first drag club for children
Desmond Napoles has attracted thousands of online followers through his drag persona Desmond is Amazing – and now the child has founded a club "exclusively for drag kids". 
Desmond, who identifies as a genderfluid boy, describes himself on Instagram as "a Drag Kid, Dragutante, and Dragketeer doing what I like to call Kinderdrag. I'm a total Drag Slayer".
The New York City resident adds: "I call my style 'androgynously' and my looks 'avantdrag'.
"I'm inspired by Alig, Richie Rich and all of the Club Kids, RuPaul, Nelson Sullivan, Marsha P. Johnson, the Blitz Kids, Andy Warhol, Keith Haring, John Galliano, Alexander McQueen, Commes Des Garçons, AltDrag, and do-it-yourself drag.
"I design my own outfits. I'm also an LGBT+ advocate and gay youth.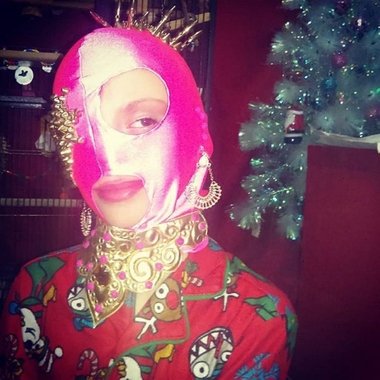 "My motto is 'Be Yourself, Always'.
On his website, it states that ever since being born in June 2007, "during NYC Pride Week," Desmond has been sure of who he is.
He claims he "came out of the closet when he was born," adding that growing up, he would "endlessly clomp up and down the hallway in his mother's high heels (and still does)." 
His parents, the website explains, accepted Desmond's desire to dress in drag after they realized that their uneasiness came "from their own misgivings about how the outside world would react.
"It was as simple as defeating those feelings, accepting Desmond as he is, and respecting Desmond's own tastes and preferences."
And now, he has established the Drag Haus of Amazing, which he has called "the first and only drag house exclusively for drag kids who are doing AMAZING drag."
His website describes how Desmond is aiming "to bring young drag kids, bio queens, drag kings, and anyone else who loves drag together in a safe, positive, worldwide online community."
It explains that "because the drag house is restricted to members age 20 and younger, members can communicate freely and candidly with their peers without the often judgmental interference of adults."
"If somebody says that it's not okay to be LGBTQ," he said, "then just tell them to pay it no mind because they will not be as jolly and holly as the person who is getting bullied by that person that says it's not good to be LGBTQ." 
The 10-year-old urged other kids to be true to themselves.
The Gayly 1/6/2018 @ 6:00 p.m. CST