Administration official says penalizing nations that have anti-LGBT laws is "religious persecution"
The U.S. State Department sponsored Ministerial to Advance Religious Freedom last week contained some notable anti-LGBT sponsors, attendees and speakers.
One notable speaker at the event was Mick Mulvaney, Director of the Office of Management and Budget. Mulvaney said refusing to give aid to countries that have anti-LGBT laws was a type of religious persecution.
Mulvaney said, "Our US taxpayer dollars are used to discourage Christian values in other democratic countries. It was stunning to me that my government under a previous administration would go to folks in sub-Saharan Africa and say, 'We know that you have a law against abortion, but if you enforce that law, you're not going to get any of our money. We know you have a law against gay marriage, but if you enforce that law, we're not going to give you any money.' That is a different type of religious persecution that I never expected to see."
"I never expected to see that as an American Christian," he added. "There are a lot of people in this government who just want to see things done differently."
An interesting event on the first day was a breakfast with Ambassador Sam Brownback, co-sponsored by Liberty Counsel and Faith and Action. Liberty Counsel has been labeled as an anti-LGBT extremist organization by the Southern Poverty Law Center (SPLC).
Faith and Action is an organization that bills itself as "America's only Christian outreach to top-level government officials in Washington DC." While it isn't outwardly anti-LGBT, its president, Rev. Rob Schenck, over the years opposed LGBT rights actions.
Schenck recently terminated his relationship with Faith and Action, after publishing a book that took a close look at evangelical organizations and political power. His introspection reminded him "that God belongs to no party and that all humans – yes, even LGBTQ, undocumented and Muslim humans – are precious in God's sight."
The organization posted a notice on July 12 that Schenck "is no longer involved with Faith and Action" and that he "has recently made statements that reflect neither the values nor the mission of Faith and Action. At this point, Rob speaks only for himself and not for this ministry."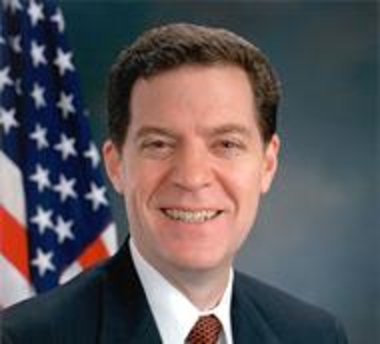 The host of the breakfast was notorious homophobe Sam Brownback, once the governor of Kansas and now the Ambassador at Large for International Religious Freedom in the State Department.
A workshop on government grants was introduced by Tony Perkins, president of Family Research Council (FRC). FRC is labeled an anti-LGBT hate group by SPLC. Perkins is one of the commissioners of the United States Commission on International Religious Freedom, a government agency.
The ministerial event was opened by Secretary of State Mike Pompeo and a keynote address by Vice President Mike Pence. Pence has a long record of anti-LGBT positions on the fight for LGBT rights.
Given Mulvaney's speech, and the associations and people involved in putting it on, it would appear that the event, sponsored at taxpayer expense, had at least a strong input from anti-LGBT organizations and members of the Trump administration.
Copyright The Gayly – July 31, 2018 @ 2:50 p.m. CDT.