American Heart Month – What do you know about heart disease?
Heart disease is the leading cause of death for men and women in the United States. Every year, 1 in 4 deaths are caused by heart disease. The number of heart disease deaths each year by 100,000 population is 210.9 for males, 131.8 for females.
Even more disturbing is that three of the states in The Gayly's area have even higher rates. Oklahoma leads the pack with 280.3 for males, 184.4 for females. Arkansas is close behind with 274.0 and 169.8. Missouri deaths per 100,000 are 244.6 (male) and 154.5 (female).
Texas is at 213.9 for males, 134.4 for females, above the national rate, but not by much. Kansas falls below the national rate with 202.0 (males) and 121.2 (females).
The term "heart disease" refers to several types of heart conditions. The most common type is coronary artery disease, which can cause heart attack. Other kinds of heart disease may involve the valves in the heart, or the heart may not pump well and cause heart failure. Some people are born with heart disease.
Although many people think that heart disease and heart attacks only happen to people in middle age or older, the fact is that anyone, including children, can develop heart disease. It occurs when a substance called plaque builds up in your arteries. When this happens, your arteries can narrow over time, reducing blood flow to the heart. Smoking, eating an unhealthy diet, and not getting enough exercise all increase your risk for having heart disease.
Heart disease can be prevented, or the risk of having it reduced, by several steps. The Centers for Disease Control (CDC) offers several steps to reduce your risk for heart disease.
The first is, don't smoke. If you don't smoke, don't start. If you do smoke, quit. Some studies suggest that 70 percent of smokers want to quit.
Oklahoma, which has one of the highest percentages of smokers in the nation, offers programs through the Oklahoma Tobacco Helpline (www.okhelpline.com) that includes free nicotine replacement products, a comprehensive package of services that includes coaching calls, a Quit Guide and other materials, as well as individual services.
Arkansas, which is number 3 on the percentage of smokers, offers similar services at their Arkansas Tobacco Quitline at 1-800-QUIT-NOW (784-8669). Missouri's Quitline is at www.quitnow.net/Missouri; Kansas' quit smoking help is at www.kanquit.org.
Second on the CDC's list to present heart disease is to maintain a healthy weight. Unfortunately, the states in our region are among the top ten for obesity rates, led by Arkansas, rated sixth in the nation at 34.5 percent; followed by Kansas (7th) at 34.2 percent; Oklahoma (8th) at 33.9 percent; and Missouri and Texas tied for 10th at 32.4 percent.
The CDC says, "When it comes to weight loss, there's no lack of fad diets promising fast results. But such diets limit your nutritional intake, can be unhealthy and tend to fail in the long run.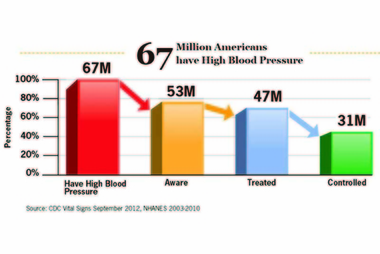 "The key to achieving and maintaining a healthy weight isn't about short-term dietary changes. It's about a lifestyle that includes healthy eating, regular physical activity and balancing the number of calories you consume with the number of calories your body uses.
"Staying in control of your weight contributes to good health now and as you age."
CDC has information that can help you attain and maintain a healthy weight at www.cdc.gov/healthyweight.
Also on the list is Eat a healthy diet and Exercise regularly, both associated with maintaining a healthy weight, as well as having other health benefits.
And finally, Prevent or treat your other health conditions, particularly high blood pressure, high cholesterol and diabetes.
For many people, chest discomfort or a heart attack is the first sign of heart disease. Someone having a heart attack may experience several symptoms, including:
Chest pain or discomfort that doesn't go away after a few minutes.
Pain or discomfort in the jaw, neck, or back.
Weakness, light-headedness, nausea (feeling sick to your stomach), or a cold sweat.
Pain or discomfort in the arms or shoulder.
Shortness of breath.
If you think that you or someone you know is having a heart attack, call 9-1-1 immediately.
Talk with your health care providers about heart disease and your risk factors for it. They can perform tests, and have many resources at their disposal to head it off, and help you live a long, healthy life.
Copyright 2017 The Gayly – February 10, 2017 @ 12:30 p.m.