Back to school Breakfast Sausage
by Chef Scotty Irani
Food Columnist
It's August, and for some of you and your families, it means it is back to school!
Besides you being overly excited that the kiddos are out of the house, get those kiddos excited about a delicious breakfast to start out their day.
I am a big fan of breakfast sausage…patties or links, it makes me no difference. Now I know some people are strict fans of either patties or links, but just add any sausage to my breakfast plate and I am one happy camper.
For a while now I have been making my own breakfast sausage; in patty form only because I do not have the casings for links, and patties are easier to knock out. I like making my own because I know exactly what I'm making them with.
No surprises with those chemical preservatives and additives. The spices (ITK's Roasted Beast), the ground meats and the herbs are in your control. There is nothing overly salty, no preservatives and well, I can put my stamp on it as "homemade". And so can you.
So, take my recipe and use it if you like. Treat it as a templet for the kind of sausage that you and your family want. You can make the sausage mix spicier or sweeter by adding maple syrup, or even different flavors and textures by using different kinds of ground meat. It's your sausage...do what you like!
Ingredients:
1-pound ground chicken (I use 100 percent chicken breast)
1-pound ground pork
1 rounded tablespoon In The Kitchen With Scotty "The Roast Beast" Seasoning (or any flavorful
 seasoning you choose to taste)
1 tablespoon minced fresh Sage
1 tablespoon fresh thyme
2 teaspoons minced fresh oregano
2 cloves fresh garlic, smashed and minced
2 teaspoons coarse ground black pepper
Make:
1. In a jelly roll pan or any rimmed baking sheet, line with wax paper or freezer paper. Spray the paper with cooking spray evenly.
2. In a large mixing bowl and with your clean hands, combine all the ingredients and start hand mixing. Think "meatloaf" and really get in there mixing completely.
3. Add the seasoned sausage mixture to the lined pan and press out into one even layer. Try to get the layer about 1/2 inch thick or thicker. Cover the pan with plastic wrap and chill at least 30 minutes to overnight.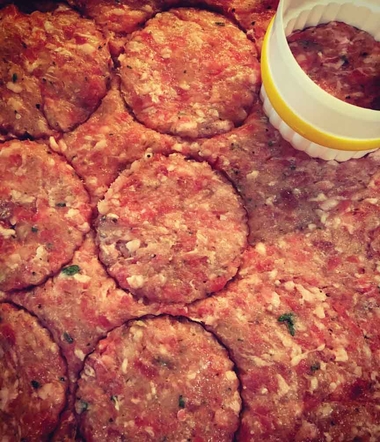 4. When ready to cook your sausage, start cutting out patties with a round cookie or biscuit cutter. Choose the diameter that makes your family smile and remember the sausage will shrink during cooking. Cut out the sausages and fry as you would do any store-bought sausage. These are easily freezable as well and you can use as needed. Enjoy!
5. Gather any uncooked "scraps", re-flatten and cut more patties. Any uncooked sausage may be frozen by laying out on wax paper and covered. Freeze and thaw as you would any other sausage or proteins.
Copyright 2017 The Gayly – August 7, 2017 @ 12:30 p.m. CDT.