Bi, LGBTQ+ rights activist wins in Carroll County
by Robin Dorner
Editor in Chief
She was a "Spotlight Candidate" backed by the Victory Fund. Laurie (Harrie) Farrow has captured the title, Justice of the Peace, Carroll County, Arkansas, District 3.
The Victory Fund works to build long-term LGBTQ+ political power by helping elect LGBTQ leaders at every level of government.
"In Arkansas, 'Justice of the Peace,' 'Quorum Court,' and 'County Judge,' are nothing like what the titles imply, and often are different from what they mean in other states," said Farrow. "It's very misleading and confusing for voters, and I'd love to see those titles change in the name of having a more informed electorate."
She said in Arkansas; this is not a judicial, but rather, legislative seat.
"The titles made more sense back when the state was younger, and JPs had different duties. In modern times, Justices of the Peace in Arkansas are County Commissioners, and the Quorum Court is the County Commission and the County Judge County manager.
"We oversee and allocate the county tax dollars, oversee county employees, and can pass legislation in the form of ordinances."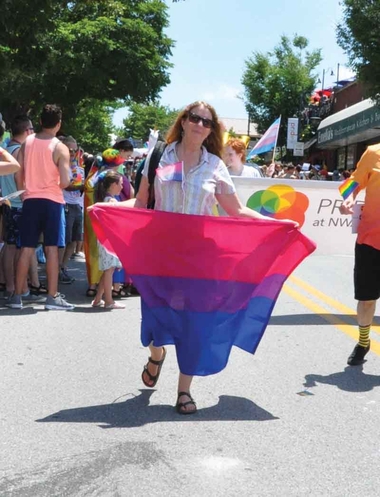 Well qualified for the job, Farrow has lived in the county for 26 years and owned and operated a restaurant for 18 years. She was a Eureka Springs Parks Commissioner and was a reporter writing about Eureka and County issues.
"My bisexual/LGBTQ advocacy on the national level led to me to being invited, during the Obama administration, to the White House event, as a Nominated Change Maker, the United State of Women and in conjunction, the day-long Department of Justice's Symposium on Violence Against Women, and the White House event Advancing LGBT Progress in Rural America.
"Since the 2016 election, as Communications director of Indivisible Eureka Springs, and as an activist for healthcare, families, immigrants, and women I have become well acquainted with political issues and elected officials. I also have a degree in psychology and graduated with Summa Cum Laude honors," she said. 
An additional role of Justices of the Peace is the ability to perform marriages, but Farrow said she has no interest in this aspect of the position.
"While I have great respect for love, and relationships, and family - I was in a relationship with my son's father for 35 years but have never been married - I don't personally understand why society has developed this practice of inviting the law into personal relationships. I'd rather people could make whatever form of personal commitments to each other and celebrate their bond without the government getting involved. She said, however, she does not think it's her place, as an elected official, to debate a ritual held dear to our society.
"However, unfortunately, and ironically, now, because I'm an elected JP, I'm likely going to be put in the position of needing to explain why I don't want to be an integral part of people's weddings. That all being said, I fought hard for marriage equality and celebrated it's passing because I believe in equality."
Farrow said it was very uplifting to not only win this race against her opponent – who, in 2015, had written a letter to the editor opposing Eureka's LGBT anti-discrimination ordinance - but to beat him by a wide margin.
"I got two-thirds the vote. I applaud our city, (which my district mostly overlaps, sending a loud message to anyone who won't stand up for the LGBTQ+ population." 
Copyright The Gayly – December 7, 2018 @ 7:20 a.m. CST.