Biden calls McCain a 'war hero' after Trump admin slight to USS John McCain
Former Vice President Joe Biden reaffirmed his respect for John McCain following the latest news of a slight from the Trump administration toward the late senator.
"John McCain was a war hero, should be treated as a war hero, anything less than that is beneath anyone who doesn't treat him that way," Biden said in Delaware on Thursday.
Biden, a Democrat, called the Arizona Republican his friend and stressed that he believed they held the same values.
"We loved each other, but we argued like the devil," Biden said. "But we still abided by the same values system, and that's why I love John McCain and that's why I think we need a lot more John McCains."
Biden made his comments after news emerged that White House and lower-level Navy officials had communicated about keeping a warship originally named for McCain's grandfather and father out of view during Trump's recent visit to Japan.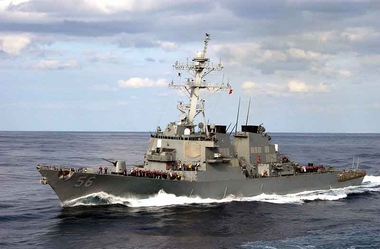 CNN reported on Wednesday that the White House Military Office had asked lower-level US Navy officials about keeping the USS John S. McCain out of view. Trump denied knowing about the plan on Thursday morning and told reporters that although he was "not a big fan" of McCain, he would not have supported moving or obscuring the ship.
"Now, somebody did it because they thought I didn't like him -- OK -- and they were well-meaning, I will say. I didn't know anything about it. I would never have done that," he said.
From the beginning of his presidential bid, Trump has criticized McCain, and he has continued the feud well past McCain's death last August. Biden, who is seeking to unseat Trump in 2020, delivered a eulogy for McCain last year and has championed his ties with his former political opponent.
"My name is Joe Biden. I'm a Democrat. And I love John McCain," Biden said last year at McCain's funeral in Arizona.
By Eli Watkins, CNN. The-CNN-Wire™ & © 2019 Cable News Network, Inc., a Time Warner Company. All rights reserved.
The Gayly – May 30, 2019 @ 3:15 p.m. CDT.