Big plans for GLSEN Wichita
by Rob Howard
Associate Editor
"It's all about reaching students and educators," said Liz Hamor, co-founder of GLSEN's Wichita chapter. The organization was accredited by GLSEN National in 2014 and has been hard at work focusing on ensuring safe and affirming schools in Wichita and surrounding areas since that time.
The chapter is planning to expand its work across Kansas. "This past year has been the most challenging our chapter has seen yet. Since the election last year, school climates have become more hostile for all marginalized students, and students and educators are pushing back," said Hamor.
They are already helping start GSA's (Genders and Sexuality Alliances, also known as Gay-Straight Alliances) in suburban and rural areas. When the chapter started, there were six GSAs in the area. Now, they are currently supporting 29, with another four in the works.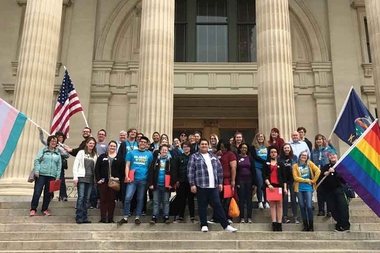 To achieve their expansion goal, GLSEN Wichita has received two significant grants worth $25,000 each. One from the Kansas Leadership Center (KLC) and the Kansas Health Foundation (KHF).
"Specifically, the KLC Transformation grant is for us to find more leaders across Kansas," explained Hamor. "We have 40 slots for leadership development and training at KLC. They have three different programs. We are identifying leaders to attend from across Kansas.
"The KLC training is good because it helps people deal with tough issues. It gives all our leaders the same language in addressing the issues. It will give us the same problem-solving skills as we expand across the state."
The KHF grant partners the chapter with Wichita State University's Community Engagement Institute (CEI). They work with non-profits to get their structures in place and help them grow. Year two of the grant will bring together most of the leaders who went through the KLC process.
"We'll bring most of them back in the summer of 2019 to do 'training of trainers.'" Hamor hopes to have the training, provided by GLSEN National, in Kansas to reach more leaders.
It's important to focus on leaders, explained Hamor. "With students, if an organization were trying to get me engaged, I'd wonder why. It's different when you can see a person and build that relationship and networking. We realized that we needed to have more face-to-face time with the students."
In addition to the rapid increase in the number of GSAs supported, they have an educator and student programs and help with developing school policies that promote inclusion of LGBT+ students.
They also do events. They stage Ally Week, Celebrate Kindness Week (also called No Name-Calling Week) and the National Day of Silence. Hamor said that it is probably their most significant event; they end the day where students typically do not speak in school, with a 'Break the Silence' rally.
Another program they have developed is called Rainbow Graduations, providing rainbow colored tassels and a certificate to graduating seniors who have been active in their GSA. The clubs that want to participate will then hold their ceremonies at their schools. In the first year, they distributed 70 rainbow tassels.
The Wichita board is working on fundraising to support their expansion. They hope to hire a director as part of their plans. That is a commitment of approximately $50,000 per year, so they plan to raise money through grants and individual donors.
"I truly believe there is someone out there that will see what we are doing and help us get staff, to keep our work sustainable," concluded Hamor.
For more information about GLSEN Wichita, visit www.glsen.org  and (search Wichita) or Facebook @GLSEN Greater Wichita.
Copyright The Gayly – January 20, 2018 @ 10:20 a.m. CST.