Braum's plans will leave people jobless, homeless
by Robin Dorner
Editor in Chief
"I'm not old enough to retire, but I'm too old to start over," exclaims R.G. Allen, known by his friends as Greggo. "I have lived and worked here on this block in some capacity for 20 years."
The area is Classen and N.W. 50th in Oklahoma City, known as the Classen Circle. It is where Braum's fast food restaurant company plans to build. Of course, they must destroy the iconic buildings currently located on that corner, which will leave many people jobless and several homeless.
It is home to several businesses, including the HiLo Club, one of OKC's oldest LGBT+ welcoming bars.
"I appreciate progress, but when you take away someone's home and job it's a different story. It's just evil," says Greggo.
On July 5, Braum's filed a rezoning application with the city proposing removal of the buildings in that area. A rezoning meeting with the City Council has been postponed until September 28 to allow time for a "community meeting" which will be held September 14.
Some people think this is a delay tactic until the company purchases the building. Others blame the property management company.
"It's not Braum's fault for applying to purchase the site. It's the fault of the property management that has neglected their responsibility as property management on upkeep. That's what allowed the corner to degrade and dilapidate," says Mose Pedigo on a Facebook post.
Greggo agrees, saying, "I can't say that I was totally shocked about the news because I have been here so long. The owners have had this property for so long and have done nothing with it. It's very sad in general because this place is so unique.
"And the people it affects; it will be devastating. I think they are going to break a lot of people's hearts and for what? A hamburger and fries? A strip mall?"
Greggo visited the HiLo Club for the first time in 1984 and shared his thoughts about the people he has befriended.
"It's an eclectic group of people; so much diversity. New customers say, 'I'm so glad I found this place.' We have people who come from all over the world while traveling down Route 66 who stop in here because it's so inviting. They love it! I don't think they'd stop just to visit a Braum's!
"I have close friends here and acquaintances. The variety of people is amazing. The diversity is one of the things I think attracts so many people." He continues, "This was before anyone talked about diversity. All kinds of people come in here."
Greggo made it clear his story is about all the people these changes will affect.
Greggo has worked at Classen Grill since about 1980. He said the owners of the grill have no idea where they will go or what they will do from here.
"My job is wonderful. I'm comfortable there. I don't have to work late and I like that I can be me. I have several regular customers and they are very supportive. And, again, the diversity; the people."
Classen Grill said in a statement, "We have served the community for many decades and hope to continue doing so for a long time. Thank you for your support." Initially, the only news they had about the sale of the building was from the media.
The Gayly made multiple attempts to contact Braum's which, at time of press, had not replied to our requests for an interview.
"This is such a bush league move by Braum's, and they're too big of cowards to even speak with the press," said Austin Stallings of Oklahoma City. "They're stealing these businesses right out from under the rightful owners, and they're stealing more than half a century of history and memories from our city."
Dean Deason, another Oklahoma City resident offered his opinion, "It's sad that companies like Braum's just saturate cities, destroying their originality. It's also sad that this property looks as neglected as it does. I hope now that it can be saved and cleaned up while not losing its funky, cool atmosphere."
Greggo said it is especially hurtful that a company which headquarters in the same city would do something like this.
There are other businesses like the record store, Charlie's Rhythm & Blues, also at Classen Circle. It was founded in the late 70's by Charlie Nicholson, who died earlier this year. His 18-year-old son, Justin Daniels, now runs the store.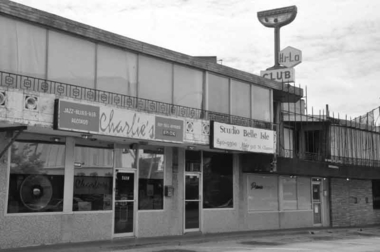 "Charlie was my neighbor and a good friend; he was in the World War," says Greggo warmly. "I knew he wasn't well when he called me 'little brother' a few days before he died. He never called me that."
Greggo works, socializes and lives in the Classen Circle building(s). "My apartment isn't much and it's run-down. It floods, it has broken out windows and it probably should have been condemned years ago, but it's my home."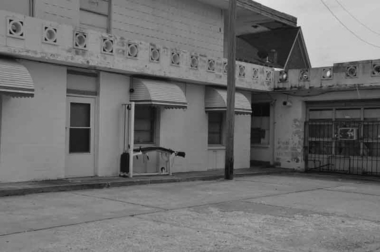 He says there are several people who, like him, will have very few options for housing if the building is destroyed.
Leaving folks jobless and some with few choices of housing? To that, Greggo says, "Shame on you!"
The "community meeting" to save the Donnay building has been scheduled for Thursday, September 14 at 6:30 p.m., Crown Heights Christian Church Fellowship Hall, 4020 N. Western. This will be an opportunity to discuss the proposed zoning application with your city councilman, planning commissioner, and Braum's legal counsel.
Copyright 2017 The Gayly – September 8, 2017 @ 7:15 a.m. CDT.