Expressionistic Mallory Taylor featured at OkEq showcase
Mallory Taylor, a self-taught artist born in Tulsa is featured in Oklahomans for Equality's (OkEq) November First Thursday reception and month-long exhibition at the Dennis R. Neill Equality Center. The opening reception is Thursday, November 2.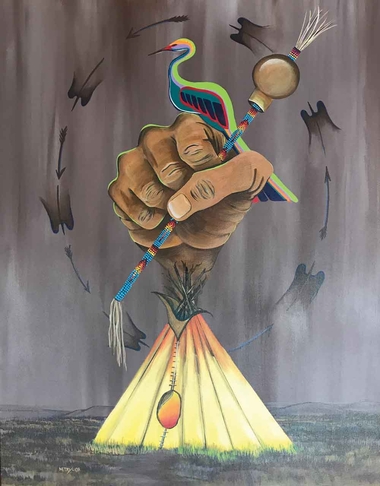 Taylor is of Osage, Cherokee, Blackfoot, Crow, Black Dutch and Irish decent. Her acrylic paintings and pencil drawings are expressionistic in nature. To preserve her Native American culture through her contemporary style, she often includes handwritten explanations of the stories and historical artifacts represented in her work.
Her work has been exhibited at the Oklahoma Indian Art Gallery in Oklahoma City, the Muskogee Creek Nation Museum in Okmulgee, Okla., The Jacobson House in Norman, Okla., The Corridor in the Paseo Art District in Oklahoma City and in other venues.
Her work is currently exhibited at Pop Gallery, Santa Fe, New Mexico, Bella Fine Art in Monument, Colorado, The Bishop Gallery, Brooklyn, New York and will be showcased in a traveling show in 2017 with Native Pop.
Taylor is also a mural artist who has murals in downtown Tulsa in the Brady Art District located near Guthrie Green and the recently painted a mural at the Dennis R. Neill Equality Center on the south side of the building (see page 27 of the November issue of The Gayly for full coverage on the mural at the Equality Center).
The artist is most proud of her work currently being exhibited at the Fred Jones Museum in Norman, alongside works by her father, Robert Taylor. The elder Taylor has been a great influence on his daughter's work.
This artist hopes her work evokes the emotion and beauty of both past and present-day Native American culture not only for Native Americans but all races and nationalities.
You can follow her work on Facebook and Instagram @InspiredArtbyMTaylor.
The month-long show begins with a reception on Thursday, November 2 from 6-9 p.m. at the Dennis R. Neill Equality Center, 621 E. 4th Street in downtown Tulsa. There will be a door prize drawn of the artists' work. The show continues throughout the month.
Oklahomans for Equality (OkEq) seeks equal rights for Lesbian, Gay, Bisexual and Transgender (LGBT+) individuals and families through advocacy, education, programs, alliances and the operation of the Dennis R. Neill Equality Center. www.okeq.org.
Copyright The Gayly – October 30, 2017 @ 7:20 a.m. CDT.