Friday (Dec 15) is the deadline to #GetCovered
The December 15 deadline is quickly approaching. 
Dec. 15 is the last day to enroll in or change plans for 2018 coverage. After this date, you can enroll or change plans only if you qualify for a Special Enrollment Period.
Getting started is easy. Choose from these three options.
First time using HealthCare.gov? Create an account here.
Have 2017 Marketplace insurance? Log in to update your application and compare plans for 2018.
Want to see plans first? Preview 2018 plans with price estimates based on your income, before logging in.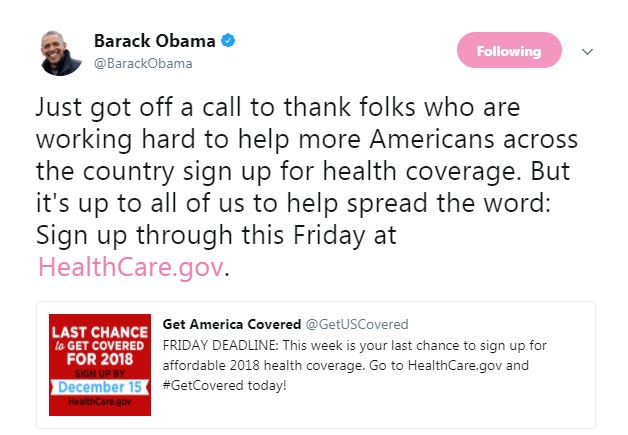 Here are 5 tips about the Health Insurance Marketplace.
1. Deadlines for 2018 coverage
- Enroll by December 15 for coverage starting January 1, 2018. Apply now.
2. Who needs Marketplace coverage?
Anyone who doesn't have coverage through a job, Medicare, Medicaid, the Children's Health Insurance Plan (CHIP), or other qualifying coverage. If uncovered, you may pay a fee.
3. Two kinds of coverage
Depending on income, you may qualify for an insurance plan with tax credits, or for Medicaid/CHIP. See where your income falls.
4. What plans cover
All plans cover essential health benefits, pre-existing conditions, and preventive services.
5. Plans & costs
You can preview available plans and estimated prices based on income before logging in.
Find out here if you areeligible to use the Marketplace.
Related: 
'Obamacare' repeal fails
Healthcare is a right
Poll: Most young people say gov't should pay for health care
Sign up through Friday at www.healthcare.gov.
Copyright The Gayly 12/13/2017 @ 12:44 p.m.