Homophobic attack prompts France team to wear rainbow laces
France's national rugby team will wear rainbow laces this weekend as a gesture of support for Gareth Thomas after the former Wales national was the victim of a homophobic attack.
Thomas, who came out as gay in 2009, posted a video on social media on Sunday saying he had been assaulted the night before because of his sexuality.
The 44-year-old chose to pursue restorative justice -- which organizes mediation between the victim and the offender -- for his 16-year-old attacker rather than press charges.
See: Olivier Giroud: "Impossible to be openly homosexual in football"
Serge Simon, vice-president of the French Rugby Federation, has pledged to support Thomas -- who played in France for Toulouse for three years -- in the national team's match against Fiji on Saturday.
"Dear Gareth Thomas, all of French Rugby is with you regarding the homophobic molestation you've been victim of," he wrote.
"To show our support, the French rugby players will wear a rainbow shoe lace during the France -- Fiji game on Saturday night.
"We're all in with you in this matter."
The Rainbow Laces campaign was set up in 2013 by gay rights group Stonewall, who initially sent them to football clubs across the United Kingdom to promote inclusion of the LGBT community in sport.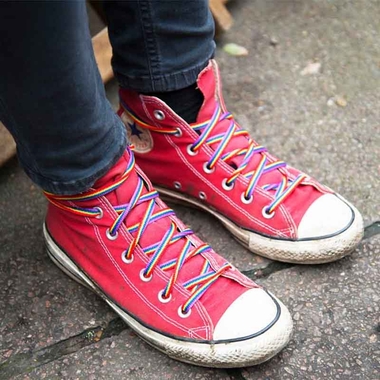 Top rugby and football clubs will again take part in the campaign this month, with rainbow laces, corner flags and captains' armbands on display at grounds around the country.
After Saturday's assault, Thomas said he chose restorative justice because he thought the attacker "could learn more that way than any other way."
"This morning I have decided to make what I hope will be a positive video," he said. "Last night I was the victim in my home city of a hate crime for my sexuality.
"Why I want it to be positive, is because I want to say thank you to the police who were involved and were very helpful and allowed me to do restorative justice with the people who did this.
"Also to the people of Cardiff who supported me and helped me, because there are a lot of people out there who want to hurt us, but unfortunately for them there are a lot more who want to help us heal, so this I hope will be a positive message."
The-CNN-Wire™ & © 2018 Cable News Network, Inc., a Time Warner Company. All rights reserved.
The Gayly – November 21, 2018 @ 1:30 p.m. CST.