How to make an impact in 8th grade
by Robin Dorner
Editor in Chief
Some people never really make an impact on the lives of each other. Some people do it every day, whether it's in their work life, personal life or through volunteerism.
However, Trystin Ingram and his friend, Tamara, have made an impact in the 8th grade. At their middle school in Choctaw, Oklahoma, they set up the first-ever LGBT+ support group and the membership has already grown since their first meeting.
Ingram has lived in Choctaw for the past five years
He wrote to The Gayly and said, "I would like to tell you about how two 8th graders who were nobodies created the first ever LGBT+ support group at Choctaw Middle School. My name is Trystin and I am gay. My friend Tamara is lesbian.
"I originally thought of this group in class one day because I need a place to feel free to talk about my sexuality in an environment safe from everyone's judgment. I pitched the idea to my friend Tamara and asked what she thought about it. She said it was a good idea, so we asked some teachers what they thought about the group."
Their teachers told them what they would need to do set up a school group. They wrote a mission statement and submitted it to the principal, who approved it.
They set out to find a sponsor at the school. The school counselor, Tami Dorrell, volunteered to sponsor the group and helped attain founding the group.
By their first meeting, six students had joined. "Our goal is to reach more potential members and let them know that they are not alone and that our group is a safe place to talk without judgment."
Ingram is out to all of his family and friends. He said when he told them he was gay, "They all took it really well. My family really liked the idea of the group."
Ingram went on, "The last meeting we [held] there were a lot more people there and someone came out. It was amazing."
His aspirations after high school are to run for governor or help in the LGBT+ movement.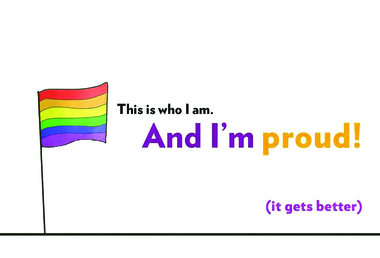 "I want to have a safe place where people can come and feel comfortable to let them know we are your friends and neighbors; no matter what, we always have each other's back."
Sadly, soon after the group was started, Ingram got a hate note in his locker saying that if he does not shut down the group that they were going to "kick my butt and slit my throat."
"This is not stopping me from helping people."
Copyright The Gayly – December 18, 2017 @ 9:30 a.m. CST.