It's National Register to Vote Day
Every year millions of Americans discover that they are unable to vote. The reasons vary. It may be because you missed the registration deadline. Each election has a date by which you must have registered in order to be able to vote in that election. National Voter Registration Day was created in 2012 to give greater awareness to the need to register early.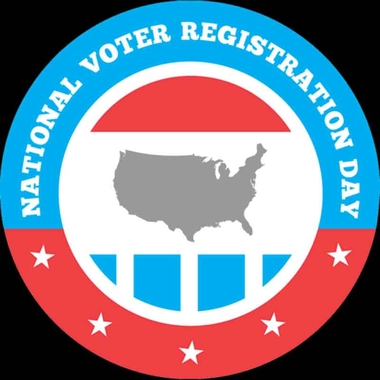 As an example of registration deadlines, for the 2018 election cycle in Oklahoma, to vote in the June 26 Primary, the last day to register is June 1. For the November 6 General election, which elects most statewide officers, all of the state House of Representatives and all of the state's members of Congress, the last day to register is October 12.
In Missouri, the deadlines are July 11 for the Primary and October 10 for the General. In Arkansas, the dates are April 23 and October 7. Kansas hasn't yet issued registration dates for the 2018 cycle.
For today's National Voter Registration Day, volunteers and organizations from all over the country "hit the streets" in a coordinated field, technology and media effort. The national day hopes to create more awareness of voter registration opportunities.
In 2016, over 750,000 voters used National Voter Registration Day to register across all 50 states.
You can vote in U.S. elections if you:
1. Are a U.S. citizen.
2. Meet your state's residency requirements. You can be homeless and still meet these requirements.
3. Are 18 years old on or before Election Day.
4. Register to vote by your state's voter registration deadline.
Another reason that you might not be able to vote is an ongoing campaign by conservatives to suppress voting by groups that tend to vote Democratic. These groups include minorities, young people and seniors.
Under the guise of preventing voter fraud – which there is scant evidence of – many states have put in place strict voter ID rules. Kansas goes further requiring you to prove you are a United States citizen. Voting rights activists are fighting these laws in court and are generally successful.
For more information on voter suppression, see Kris Kobach: Champion of voter suppression and Round two in Texas voting rights battle.
Each state has a variety of rules on what ID's will be required for voting. It is far better to register early rather than trying to find your documents close to a registration deadline. Most states register voters year-round.
If you are not registered to vote, today is a great day to get started with the process!
Copyright The Gayly – September 26, 2017 @ 1:20 p.m. CDT.