LGBT+ seniors have critical needs
by Rob Howard
Associate Editor
With the aging of the baby boomer generation, there is expected to be a staggering increase in the number of seniors in the United States. Nationwide, in 2012 population estimates were that there were 43.1 million seniors in the country; by 2050, the number is expected to double to 83.7 million, according to US Census estimates.
The same expectations apply to LGBT+ seniors. According to the Williams Institute, "One study estimates that there are over 2.4 million LGBT adults over age 50 in the United States, with the expectations that this number will double to over 5 million by 2030. Another study estimated that there are between 1.75 to 4 million LGBT adults above age 60."
Given those figures, there is a crisis in care, services and housing for LGBT+ seniors, and it is only expected to get worse. One of the most critical is housing. A Williams Institute study says, "One study found that LGB seniors searching for retirement homes experienced unfavorable differential treatment (less housing availability, higher pricing, etc.) compared to non-LGB seniors."
According to SAGE (Advocacy & Services for LGBT Elders), Los Angeles, Philadelphia, Chicago and Minneapolis have already developed some affordable housing for LGBT+ elders. Now, New York City is joining in providing for that critical need.
The New York Times reported this week that SAGE is working with private developers to provide subsidized housing for older LGBT+ people like Mary Ellen Green in New York City. Citing Ms. Green's story, the Times wrote, "Her only refuge is a senior center in Manhattan that serves the lesbian, gay, bisexual and transgender community. She can sit down to a hot meal or settle in with a book without worrying about being harassed by her neighbors.
"But when the center closes at night and on weekends, Ms. Green, 61, a freelance writer who is homeless, is on her own again."
According to the Times, estimates are that more than 100,000 of NYC's 1.1 million reidents 65 and older are lesbian, gay, bisexual or transgender.
The Williams Institute study says, "Sexual minority older adults may also face discrimination when searching for retirement homes and senior housing (Cahill & South, 2002). In a nationwide matched-pair study, in which an LGB identified senior and heterosexual identified senior contacted the same senior housing community to determine availability, nearly half of the tests (48%) showed that the LGB identified senior experienced unfavorable differential treatment in terms of availability of housing, pricing, financial incentives, amenities or application requirements."
The study notes that LGB-friendly housing is available in some parts of the U.S. but it is mostly available to upper-income LGB older adults.
SAGE, noting discrimination against LGBT+ elders, explains the need for such housing, and why the organization has gotten involved in developing the housing: "there is also a great desire for community among LGBT older adults, who often grow older in severe isolation and who continue to deal with both homophobia and transphobia. Creating community in an inclusive environment is a critical part of SAGE's work. For nearly 40 years, SAGE has been a pioneer in creating programs and advancing LGBT-inclusive aging initiatives that have positive impact across the country."
The organization, working with developers as well as the NYC Housing Authority and the NYC Department of Housing Preservation & Development, says it "is thrilled to be working with BFC Partners" and other developers of permanent supportive housing for special needs populations.
The current plan envisages two residences, called Ingersoll Senior Residences and Crotona Senior Residences.  Ingersol is a 145-unit building to be built in Ft. Green, Brooklyn. Crotona is an 82-unit development in the Bronx.
The new residences will be open to any age-qualified (62 and older) and income-qualified people. New York Fair housing laws prohibit discrimination on the basis of sexual orientation, race, gender and numerous other protected classes. But SAGE will advertise in many different venues to ensure that the LGBT+ senior community is well aware of the opportunity of these affordable, LGBT+ welcoming buildings.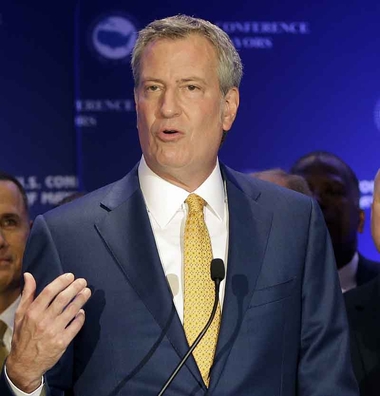 According to the Times, the new buildings are, "in part a response to Mayor  Bill de Blasio's call for more affordable senior housing for LGBTQ New Yorkers. 'Many older L.G.B.T. adults remember the discrimination they faced in housing and other sectors, and they were silenced for far too long,' Donna Corrado, the commissioner of the Department for the Aging, told The Times.'The construction of housing for them creates a safe space and support system that allows LGBT seniors with limited incomes to live with dignity.'"
The development is good news for NYC LGBT+ residents, but the need for LGBT+ affordable senior housing is already critcal and will only get worse. Advocacy groups need to continue to work on this problem.
Copyright 2017 The Gayly - July 5, 2017 @ 1 p.m.